Remember your grade-school geometry? When you were a kid learning about parallelograms (four-sided shapes) did your teacher ever mention turtles?
They could have. The two groups have something in common. Just like one is a specific kind of shape, the other's a specific kind of reptile – and it's NOT always easy to tell which!
You see, the term 'turtle' has been widely misconstrued. In the strictest sense, it means any member of the Latin group Chelonia (opens in new tab). It's an umbrella term, one describing not just all shelled reptiles but a specific subset in particular as well.
Just as not all squares are rectangles (even though all rectangles are squares) all tortoises may be turtles… but not all turtles are tortoises.
However, they have got A LOT in common. As reptiles, they share many physical traits – anatomical structures like the cloaca, for instance.
To discover more of the most critical differences and similarities between these creatures, simply keep reading!
Turtles Vs Tortoises Similarities
Similarity #1: General Anatomy
Both turtles and tortoises are ectotherms – cold-blooded. They rely on the environment to regulate their body processes, so they can't get too cool. In low temperatures, their heartbeats and metabolisms slow down to a dangerous level.
However, this isn't to say that they like heat all the time. They suffer in extreme temperatures of both kinds, but tolerate cold worse.
Additionally, both turtles and tortoises lay eggs. This is done by 'clutch', meaning several at once, into excavated nests of earth or sand.
Afterwards, the mother buries her brood to protect them from scavengers. She then wanders off, her role in the drama complete; hatchlings are self-sufficient from the moment they break through their shells.
Both turtles and tortoises eschew teeth for hard, keratinous beaks, ideal implements with which to clip, trim and prune. Though used primarily to crush fruit and shear through plant fibers, they can fetch potential predators a nasty bite!
Some, like the famously bad-tempered alligator snapper of America's Deep South, have even nipped off fingers!
Similarity #2: Shell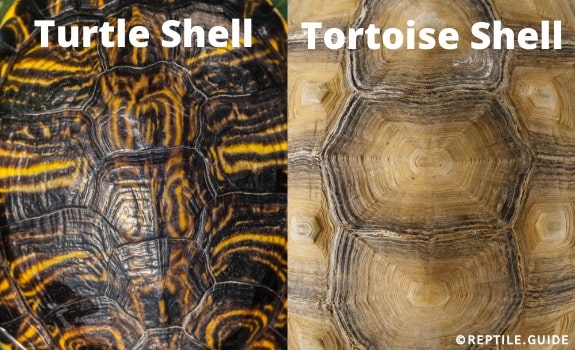 A bit of a no-brainer, another common trait shared by turtles and tortoises is their characteristic shell.
The shell is a tri-part composite outgrowth of the ribs and spine that's both armor AND a mobile house.
The bottom part, called a plastron, covers the animal's belly; this is its thinnest, most vulnerable point. It's sheathed in protective 'scutes' – scales made of keratin, just like most horns and claws.
On both sides, bone 'bridges' connect it to the top part – the carapace. But for a few rare exceptions, all chelonian carapaces are built the same way.
Have you ever seen illustrations of ships being built out of wood?
It's basically the same idea: skeletal bones – the ribs and spine – form a shell's domed structure, providing framework that the dermal bones fill in.
On top of the bone is a layer of skin, itself covered with more scutes. They each have their own special name, and they're all arranged basically the same way.
By comparing various scute sizes (not to mention positions) scientists can tell the difference between species that look alike.
Which is all well and good for individuals, but what about turtles at large? So far, we've heard what they have in common with other Chelonians: a lot. But…
There's a reason that they're classified as separate groups, right? Why?
How are they unique?
What separates a turtle from a tortoise?
⭐️Fun Fact: Did you know that the internal layer of the shell consists of more than 60 separate pieces?! These pieces are comprised of both dermal bone – the (comparatively) lighter, smoother stuff that makes up structures like pelvises, sternums and jaws –and the tougher, more ossified skeletal bone.
Turtles Vs Tortoises Differences
Difference #1: Environment
In a hierarchy of shelled reptiles, tortoises stand as the family's sole 'land-only' branch.
Of all their relatives, they alone lack any means for surviving in aqueous environments. No webbed feet – your tortoise has horned, scaly toes, like those of a miniature elephant.
While most turtles have knife-like claws on their hind limbs, tortoises on the other hand DON'T need them.
You see, a tortoise has no reason to evolve a means for latching onto floating objects. Absent outside interference, such issues don't arise for tortoises.
Which brings us to our next difference…
Difference #2: Swimming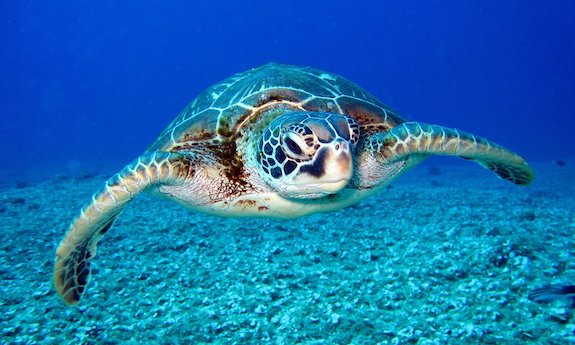 Point blank? Tortoises stay out of the water, because tortoises CAN'T swim.
They're simply not designed for it. In part (a large part) that's because of their shells – awkward, cumbersome, dome-shaped things that weigh anywhere from 20 to 900 pounds!
While those of their aquatic cousins (such as the Red-Eared Slider) evolved to be better for swimming – lighter, and streamlined to reduce drag – the sole function of a tortoise shell is body armor.
The bony plating fused to their ribs and spines is a primary means of protection for these creatures.
They're not very fast, achieving top speeds of about 1 mile per hour, but their formidable carapaces are proof against fangs, claws, and beaks.
Though certain eagles have achieved a reliable success rate with the 'drop it from a great height onto very sharp rocks' technique (as was learned by poor Aeschylus) most predators wind up choosing not to bother.
Difference #3: Shedding
Turtles shed their scutes. One of many reasons that they bask so much is to dry the structures, making them more liable to flake.
If desiccation alone can't do it, wild turtles might be seen rubbing their shells on a handy rough surface in order to scrape off the tissue.
This doesn't just remove old stuff but make room for the new underneath.
If a turtle can't shed its scutes, it starts to shed abnormally (a condition called dysecdysis).
And as we've learned with other reptiles like the bearded dragon, abnormal shedding can have its fair share of health concerns, such as infection.
A pet tortoise, on the other hand, sheds nothing.
If you've ever had occasion to look closely at a tortoise shell, you might have noticed how the hills and contours of the surface have a certain… layered look?
Sort of like the cross-section of a tree-stump, except 3-dimensional?
That's because keratin is constantly growing in, pushing the old layers up from underneath. Jaws don't fit well around the high, curved shape, making it difficult to bite through.
And those rare instances in which a land-bound carnivore is able to snag snacks of tortoise meat? Well, it's more often than not due to the tortoise being young.
You see, a turtle's shell can't grow and develop the right way without some specific conditions, and – until it fully hardens – the creature will be vulnerable.
This means they have to watch out for a variety of potential predators.
Some species on the 'to be watched for' list in that regard include:
Ravens

Badgers

Road-runners

Coyotes

Kit foxes

Ground squirrels
Difference #4: Lifespan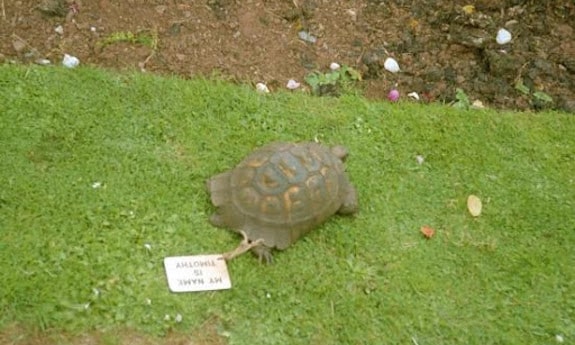 But, what about when it comes to laps around the sun?
Who exactly has the edge?
As it turns out, turtles also have a shorter lifespan. While a turtle would be lucky to make 75 years, tortoises last closer to 200. Some of history's greatest companion tortoises went on to fame that way.
Timothy, for instance, (c. 1844-2004) served in the UK royal navy and lived through the Crimean war. She finally retired in 1892.
Taken in by the Earl of Devon as a reward for distinguished service, she lived out the rest of her days at Powderham castle before expiring at age 160.
Tu'i Malila was a female radiated tortoise from Madagascar. Whether innocent shipboard immigrant or gift of Captain James Cook, she lived with the Tongan royal family until her death at 219.
⭐️Fun Fact: Did you know, the oldest tortoise on human record was Adwaita? Born sometime around 1750, he lived with Lord Clive of the British East India Company before moving to the Alipore Zoological Gardens in Kolkata, India. He was about 250 when he passed away, killed by liver failure from an unforeseen infection.
The significant lifespan of a tortoise should be a major consideration for those who want a pet tortoise.
Alternatively, baby box turtles are some of the most commonly sold reptile pets in the US.
If you're considering getting one, you can learn how to care for it with our beginner-friendly baby box turtle care guide.
Difference #5: Diet
Tortoises need a lot of calcium as building up that big, heavy shell requires it in gross amounts.
Similarly, turtles need vitamin-D3 to achieve optimal bone growth and phosphorus to regulate chemical reactions.
They both have to have certain nutrients and minerals, but go about getting them in very different ways.
Your tortoise is primarily an herbivore. Although, diets do vary depending on factors like species, age and natural environment, they err on the greenery side.
Leaves, weeds, flowers and grasses are the food of a typical tortoise, rounded out with the occasional fruit or vegetable.
There is no one plant the animals prefer; they are browsers, lumbering slowly over vast distances, gnawing on a little bit of everything.
Your turtle, on the other hand, is an omnivores. They like their greens and roughage, yes, but also tolerate more produce: fruits and vegetables of various descriptions.
Protein sources can vary depending on species, ranging from worms and insects to small fish.
Wrapping Up Turtles VS Tortoises
So we see there are, in fact, differences between a turtle and a tortoise. Many, many differences indeed. The examples here touched on represent a much broader wealth of information, ready and waiting for curious seekers of knowledge.
Anyone wanting to know more should take advantage of countless resources available on identifying turtles and investigate. Go forth: read! Grow! Educate yourself!
And remember:
1. Tortoises don't swim.
2. Only turtles eat meat
3. Good pet parents put the tortoise in their will.
4. Respect the shell.