When you stop and consider the abundance of ball python morphs that exist, it should become pretty apparent why so many reptile and snake enthusiasts are captivated by this specific breed of snake.
And with an even temperament and manageable size, this fondness should be even more clear.
You see, with so many gorgeous morphs to choose from and an easy-to-care for personality and disposition, it's no wonder ball pythons have exploded in popularity over the last several decades!
Naturally, if you're considering adopting a ball python, you'll want to do your homework on morphs. And if you're on the hunt for explanations and photos, then rest assured you've come to the right place!
✅Buyer's Tip: Interested in taking your morphs education to the next level? Considered one of the best authorities on ball python morphs in print, this book is a ball python enthusiast's dream! It is quite expensive, but you'll struggle to find better, more thorough information. 
Ball Python Morphs Explained
In case you're new to Ball Pythons (or snakes in general!) let's briefly discuss what exactly a "morph" is…
When one refers to "ball python morphs", they're essentially referring to the unique physical appearance of the snake due to an underlying genetic mutation.
For instance, an albino ball python with white and yellow scales is a different morph than say a Blue Eyed Leucistic Ball Python that is completely white and without pigment to their scales.
To be a little more scientific, ball python morphs can also be referred to as polymorphism.
Polymorphism is 100% natural and results from a genetic mutation that causes a species' a physical trait, or the phenotype, to vary in at least 2 different ways.
Polymorphism proves that traits (such as color, size, etc.) can show variance despite coming from the same gene. This is how the same species, with naturally the same genetics, can come to look so different between specific individuals.
To give you another example of polymorphism, consider reindeer and its North American counterpart, the Caribou. Although different in appearance, habitat, and domestication, they are the same species, Rangifer tarandus.  
How Many Ball Python Morphs Are There Exactly?
Now, that you have a good understanding of morphs and how they occur, let's dive into discussing all things ball python morphs! For starters, how many morphs actually exist…
In reality, there are likely to be well over a thousand different morphs, if not even two or three thousand! You see, breeders are crossing different morphs together creating a seemingly infinite variety.
However, because covering all of these would be impossible, you'll find 30 of the MOST common morphs below. These are the morphs that are most widely recognized and accessible.
Albino Ball Python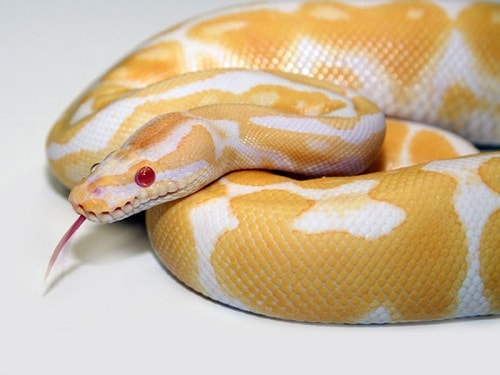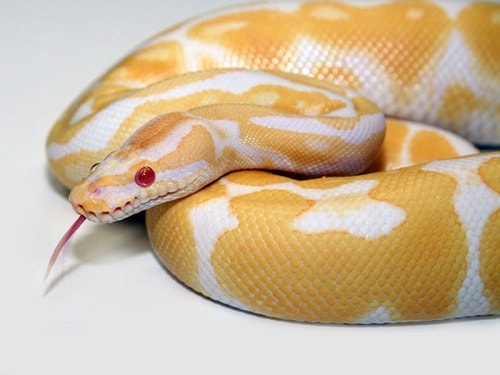 Famous for their striking yellow and white scales, the Albino Ball Python showcases a recessive mutation that only occurs when both parents carry the gene.
With pink eyes, this python is one of the more recognizable morphs and has become fairly affordable over the years. 
Axanthic Ball Python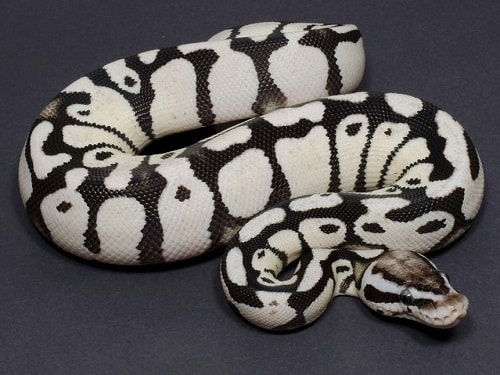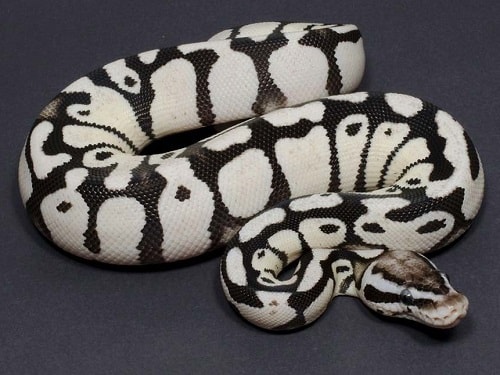 Similar to a traditional Ball Python in terms of pattern, this recessive morph offers a different color scheme with predominant shades of silvery grey, white, and black.
In fact, it has often been said that the Axanthic is like an old black and white picture version of the ball python.
There are believed to be two different lineages, with one group showcasing some brown coloring as they age.
Blue Eyed Leucistic Ball Python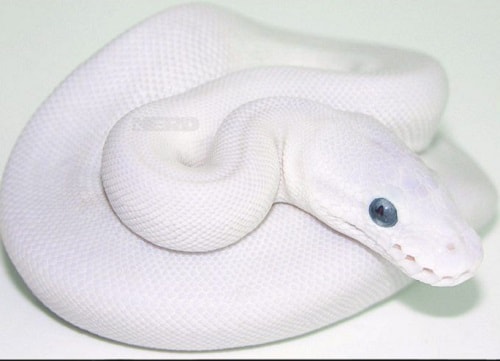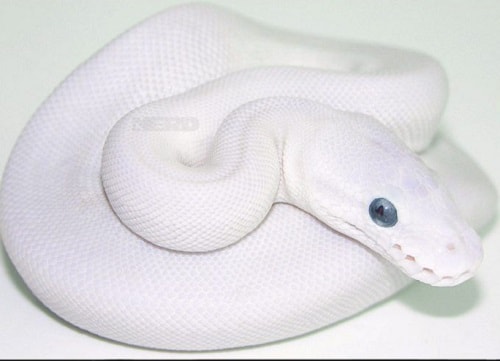 Undeniably striking, the Blue Eyed Leucistic or BEL for short, are those that have Leucism, which occurs when there is an absence of pigmentation.
Not found in the wild but a favorite of breeders for years, the BEL Python requires specific breeding from Mojave, Butter, Lesser, Russo, or Phantom Pythons.
Bumblebee Ball Python
With black and yellow scales, it's no wonder this morph is referred to as a Bumblebee!
Not naturally occurring, you'll only find this morph from breeding a Spider with a Pastel.
Bumblebees can vary somewhat when it comes to coloring, with some being more yellow and others more cream colored.
Additionally, they are known to have the "Wobble Head" that is common in Spiders.
Butter Ball Python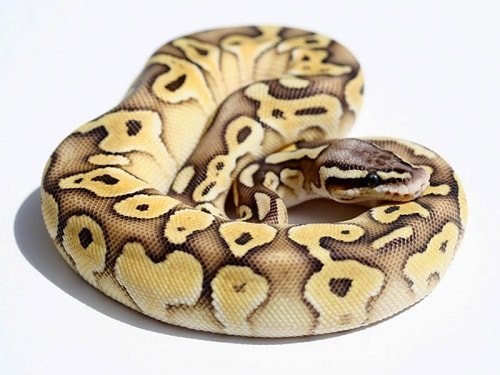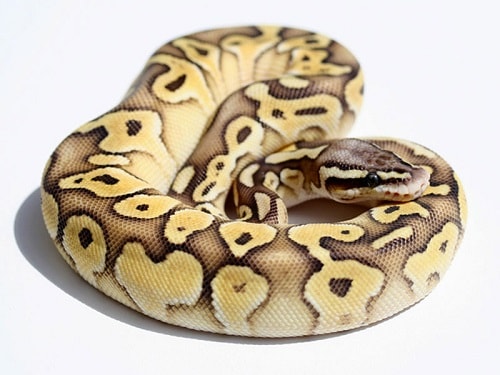 Perhaps a no brainer, but the Butter Morph is named for the buttery yellow and caramel colored scales it creates.
With an obvious Ball Python pattern, you can spot a Yellow by the smoothness of its scales, the general yellow color, and its white underbelly.
Candino Ball Python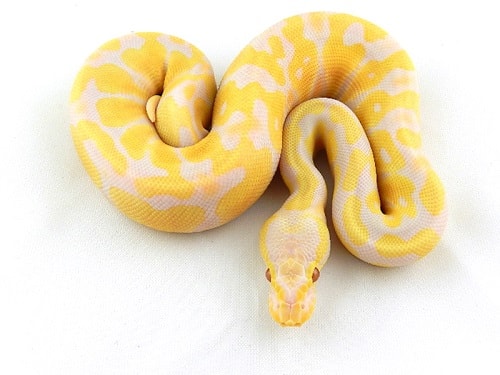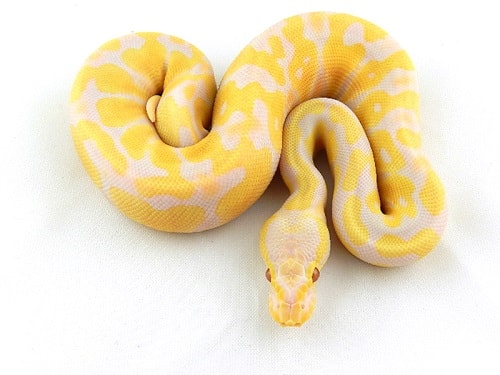 Created by breeding an Albino with a Candy, Candinos are a rarity and can be identified by their yellow and grayish pink scales.
A true designer morph, you won't find Candinos in the wild as they only occur from two recessive genes found in the aforementioned 2 other morphs.
Champagne Ball Python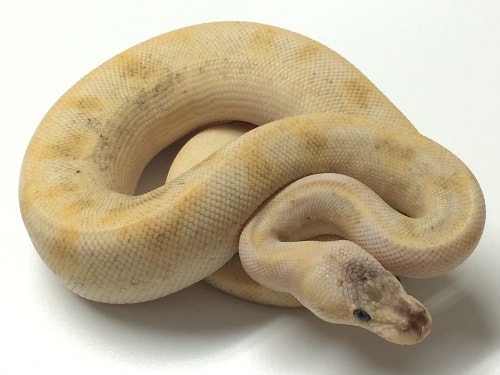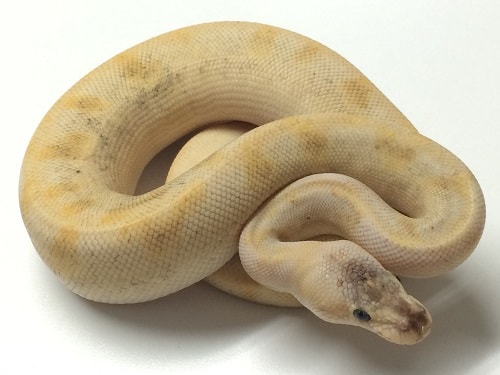 A Co-Dominant mutation, the Champagne displays an irregular pattern with tan or orange colored scales and a white underbelly.
Today, Champagnes are primarily used by breeders to make other morphs or test for Co-Dominant morphs.
Chocolate Ball Python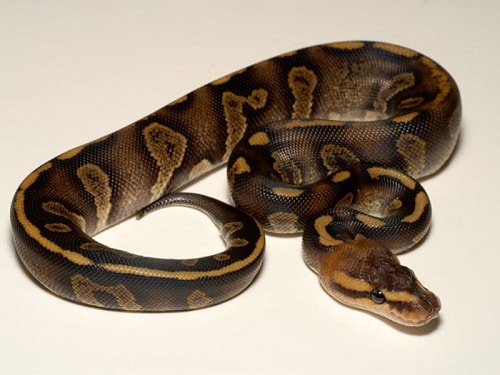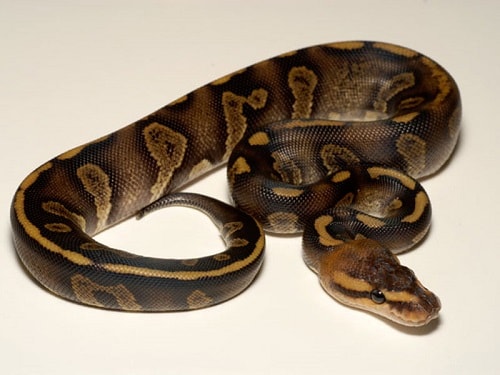 Rich and indulgent in color just like a fudgy brownie, a Chocolate will have darker brown and black pigmentation with a distinctive healthy sheen to the scales.
Cinnamon Ball Python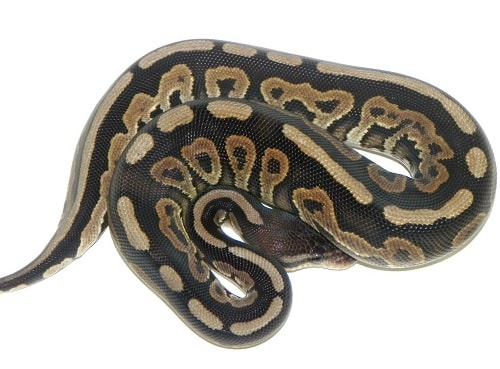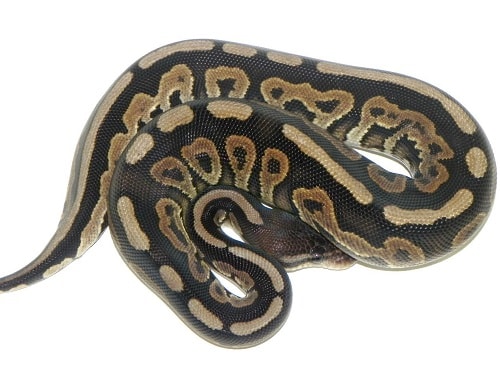 Consisting of dark brown and red tones, a Cinnamon lives up to its name with a richer coloration than that of a normal.
In terms of pattern, you can expect a Cinnamon to also display heart shaped alien heads.
Clown Ball Python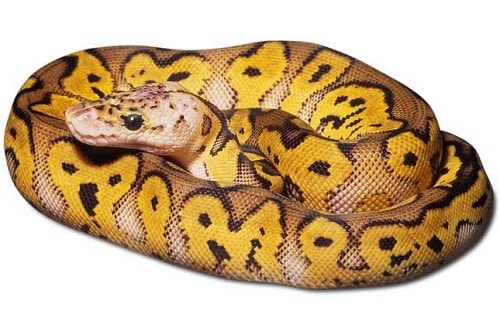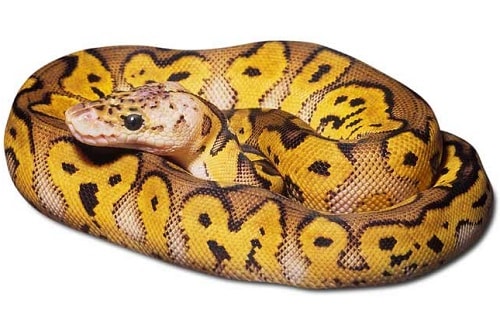 With a recessive mutation that affects pattern and color, Clowns can appear quite different from one another.
Believed to be named for the unusual pattern found on the face that resembles face paint, Clowns also tend to have a blushing coloration on their dark dorsal striping.
The dark patches also tend to end in teardrop shapes towards the under belly.
Coral Glow Ball Python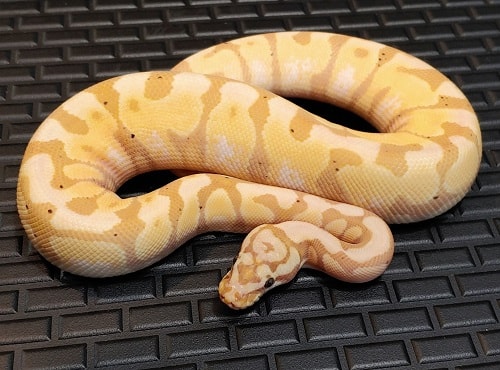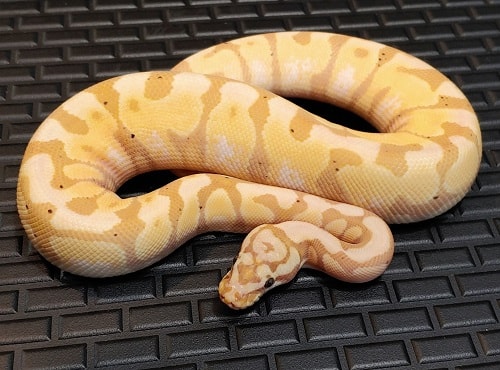 As a baby, Coral Glows display a beautiful lilac and greyish coloring with a soft yellow and orange tones.
Co-Dominant, Coral Glows can change in coloration some as they age, often having tiny black spots pop up like freckles.
Fire Ball Python
Often used to make Blue Eyed Leucistics, the Fire is much lighter than that of a regular ball python and is Co-Dominant in nature.
You can expect a Fire to have a reduction in both its brown pigmentation and pattern.
GHI Ball Python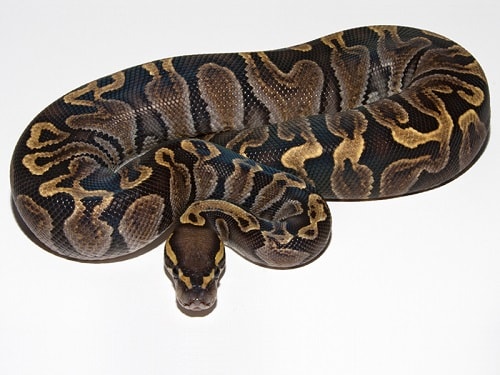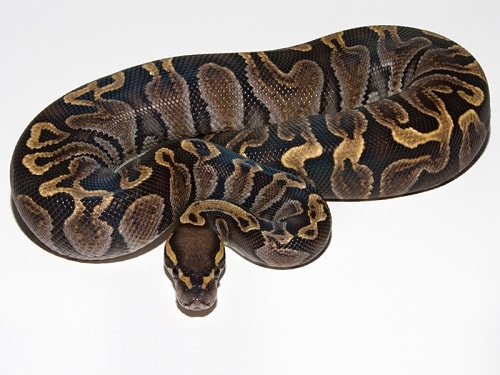 A rather new morph, the GHI or "Gotta Have It" Morph is a rare and exciting find!
With ultra-dark coloring and a relatively recent discovery date, you can expect to shell out anywhere from $3,000 to $10,000 for this gorgeous Co-Dominant Morph.
Ghost Ball Python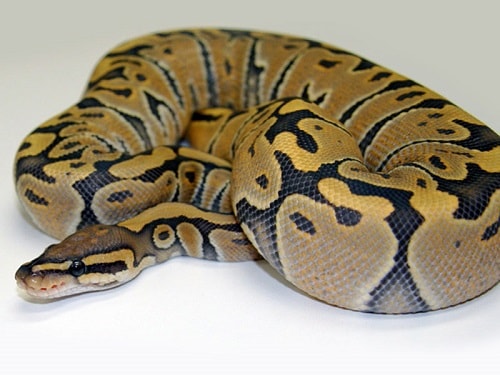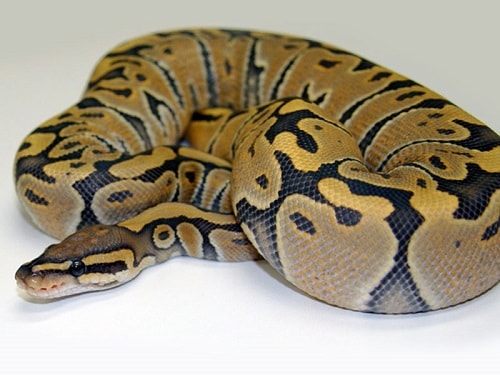 Like a chilly night close to the sea, the Ghost appears hazy with muted colors that almost look as if they could be faded by a layer of fog.
Ghosts tend to resemble shedding ball pythons.
Ivory Ball Python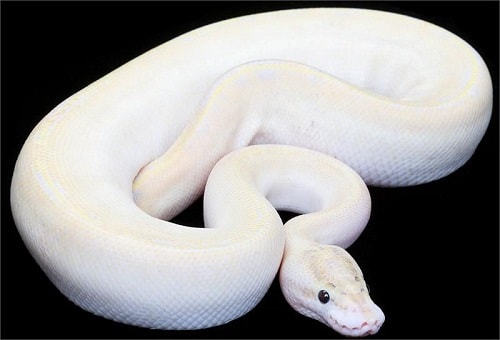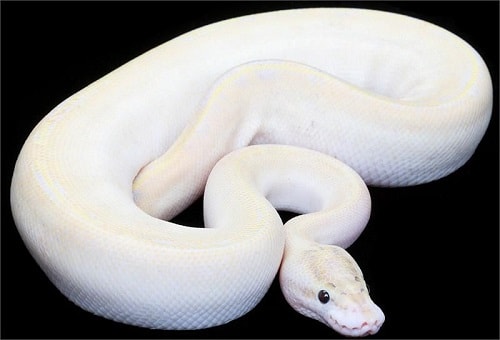 The super form of a Yellowbelly, the Ivory is a striking off-white snake that contains beige and peach coloring and can sometimes be mistaken when young for a BEL.
Also referred to as a "Super Yellow Belly", Ivories are a Co-Dominant morph.
Lesser Ball Python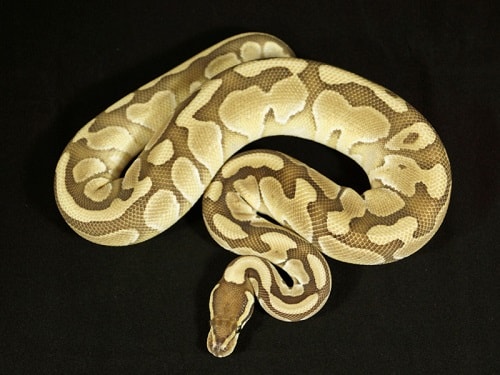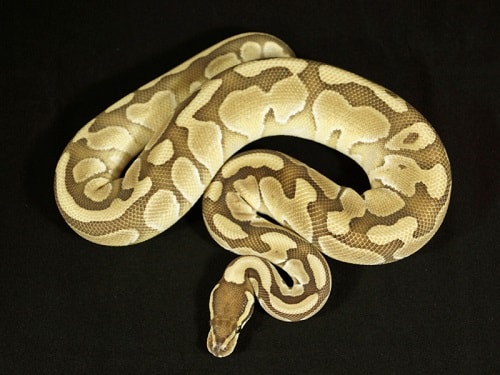 The Lesser is pretty similar looking to a Butter, but it will have a slightly more brown coloring to it.
The pattern will be representative of a traditional Ball Python, so you'll need to look closely at its coloring to properly identify it and distinguish it from a Butter.
Mojave Ball Python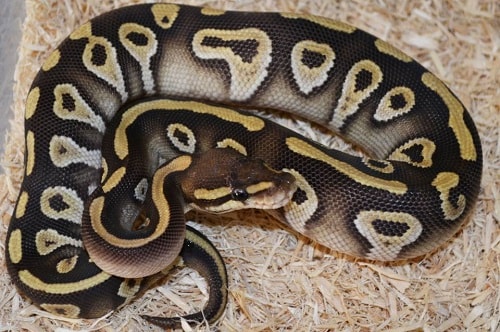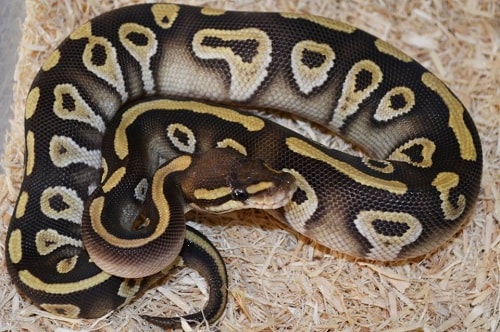 Costing as much as $4,000, the Mojave is a real site to behold with their unique bright yellow design and white underbelly.
Often a favorite of breeders, Mojaves are Co-Dominant mutations and renowned for their ability to produce many different kinds of morphs, such as Blue Eyed Leucistics, which is in part why they can be so expensive.
Mystic Ball Python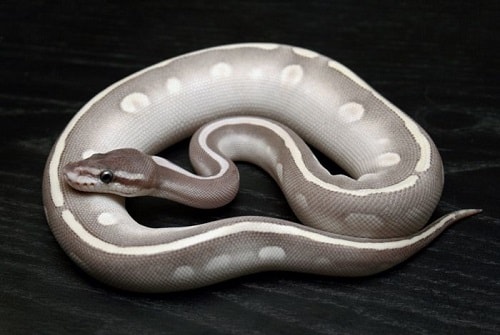 With high contrasting colors, the Co-Dominant Mystic is by no means a dull looking morph, but it also isn't as bold or bright as some others.
With Mystics, you can expect them to resemble Mojaves somewhat with less bright coloring.
Pastel Ball Python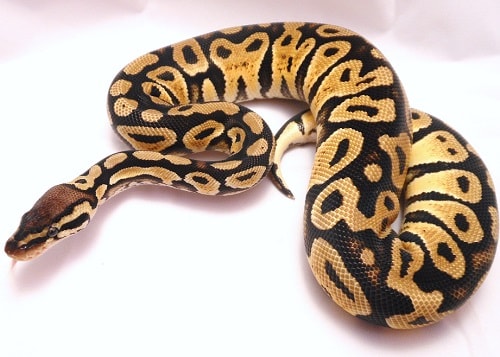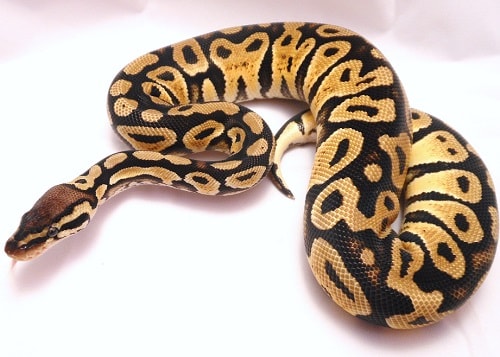 A Co-Dominant mutation, a Pastel is one of the more popular morphs you will find today.
With intense yellow pigmentation, however they can become more brownish yellow as they age.
Breeders love Pastels because they can be used to brighten up yellow and recessive genes.
Phantom Ball Python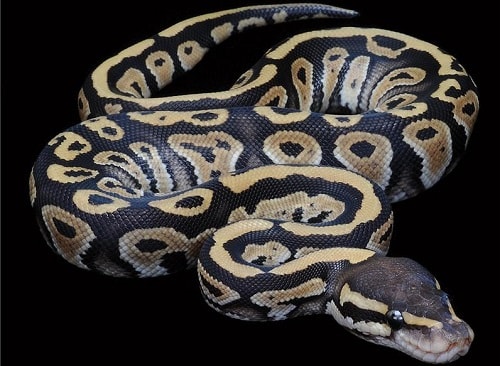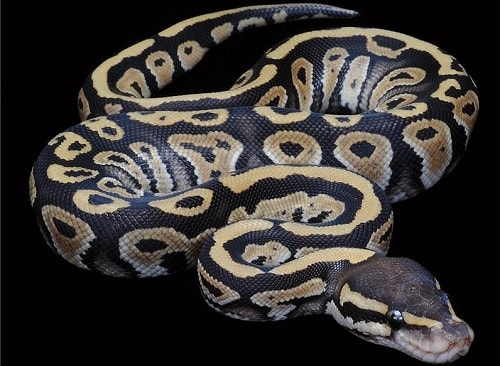 Extremely dark but not quite black, Phantoms are an extremely rich black/brown shade and can often be confused for Mojaves.
However, Phantoms will tend to have less blushing than Mojaves and more brown coloring.
Piebald Ball Python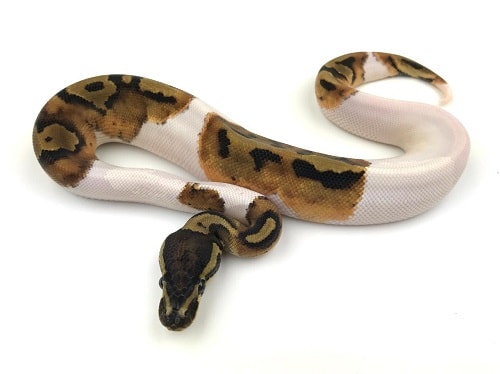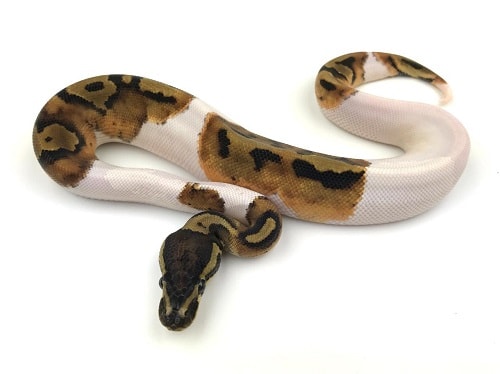 Perhaps one of the most unusual and rare of the major morphs, the Piebald is easy to identify due to its long, milky white body that separates areas of normal coloring from one another.
A Piebald is kind of like what you would get if you took a magic eraser and removed the coloring of a Ball Python in the middle and left only their normal pattern on the head and towards the tail.
Pinstripe Ball Python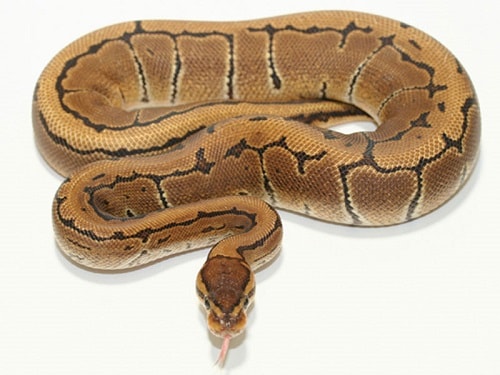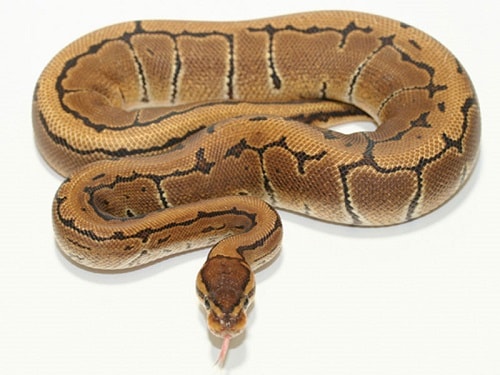 A Dominant gene, the Pinstripe is named for the long stripe that runs down its back.
In terms of color, you can expect a Pinstripe to be richer caramel on the body.
When crossed with Pastels, Pinstripes can help create the relatively newer morph Lemon Blast.
Ringer Ball Python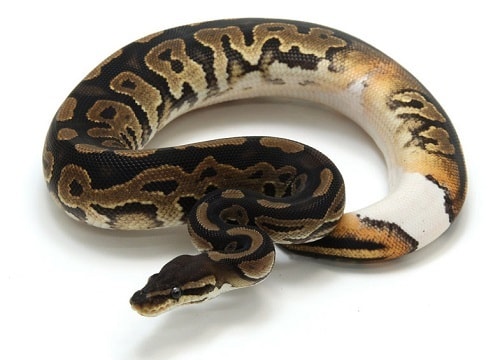 Similar to the Piebald, Ringers tend to have an area where the color dissolves into milky white scales.
However, these sections tend to be much smaller than those found on a Piebald.
If you have a Ringer, it could be a het pied (possess the Piebald gene), but it's not guaranteed.
Spider Ball Python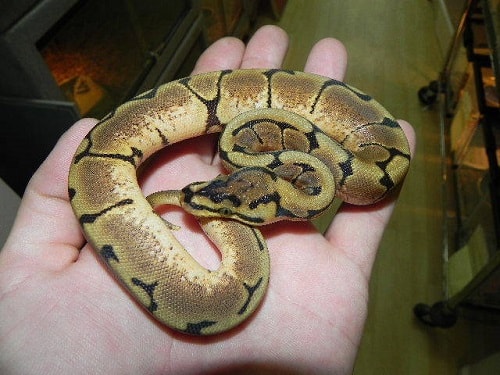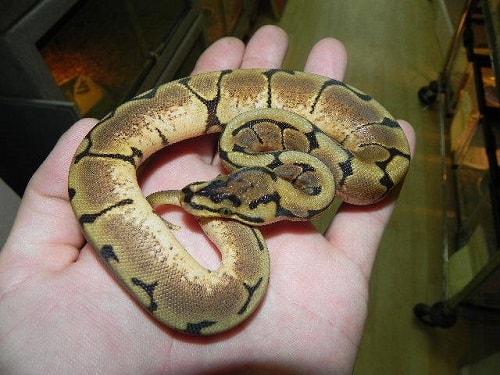 A dominant mutation, a Spider has a coloring of black, light brown, and white, with a noticeable reduction in their dark markings.
Typically, a spider will have wider pale blotches stretching across the back.
Spiders can be used to create many other morphs, but do present some neurological issues as they can suffer from the "Head Wobble". 
Spotnose Ball Python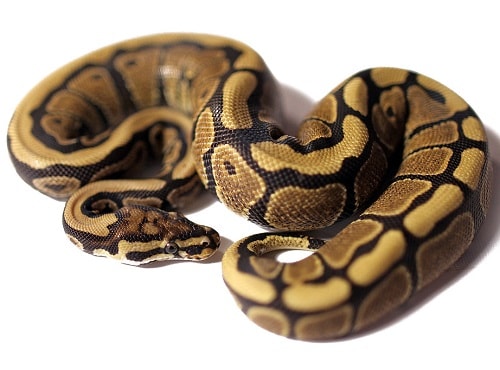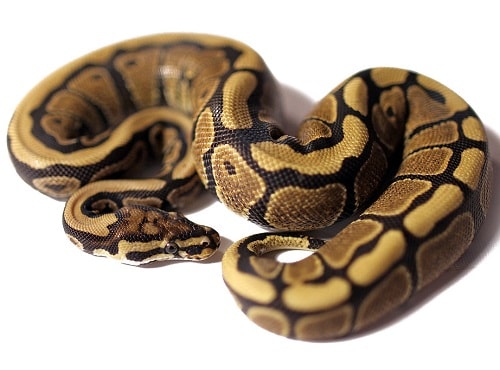 With spots on its nose, the Spotnose is one of the more aptly named Morphs on this list.
A Co-Dominate gene, Spotnoses display a pattern typical of ball pythons but have a dorsal (scales on the body) that tends to be lighter and a head with a faded pattern.
Super Blast Ball Python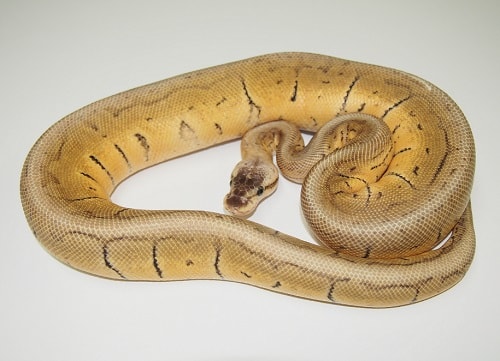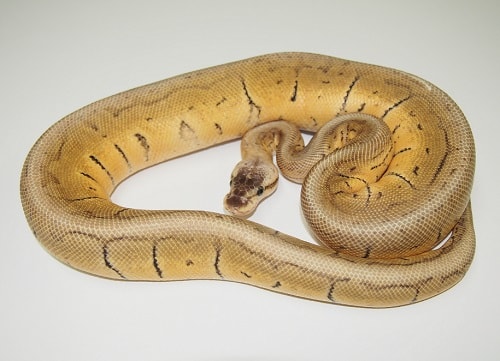 Bred from a Pinstripe and a Pastel, the Super Blast is a bright yellow python with a soft lavender colored head.
With their striking appearance, it should come as very little surprise that these morphs can cost an arm and a leg.
Expect to pay at minimum around $3,000 for this specific morph. 
Tiger Ball Python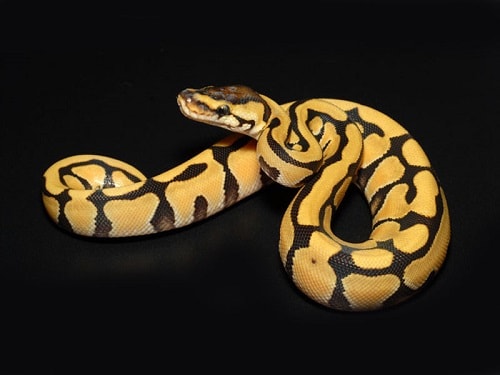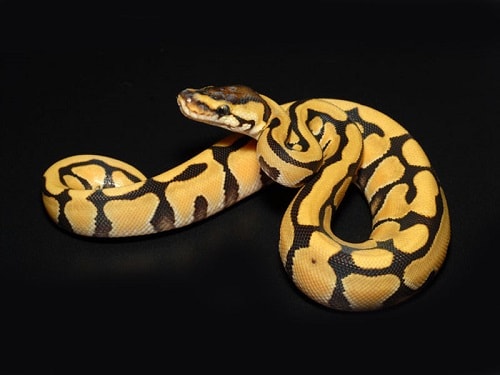 Often referred to as "Banded", the Tiger displays an irregular pattern in which it appears to have bands around its back from the dark black patches that stretch across it.
A Tiger is similar to that of Spider and Banded in that they both appear to have sections of black that stretch entirely across their backs.
Although, Tigers bands tend to be much thicker and a darker black than that of a Spider.
Vanilla Ball Python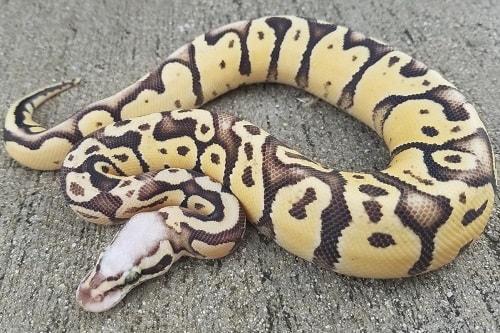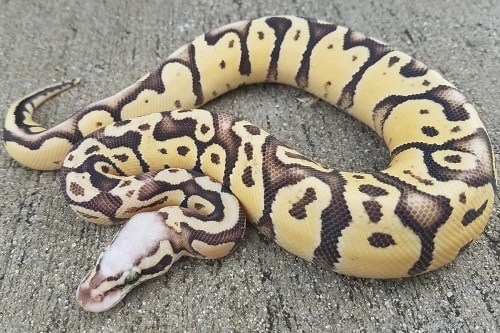 A Co-Dominant morph, vanillas were discovered to be genetic when two light normal were bred together.
Lighter than normal, the Vanillas demonstrate normal patterns but tend to become lighter and lighter over time.
You can often see them with blush heads like a pastel as well.
Woma Ball Python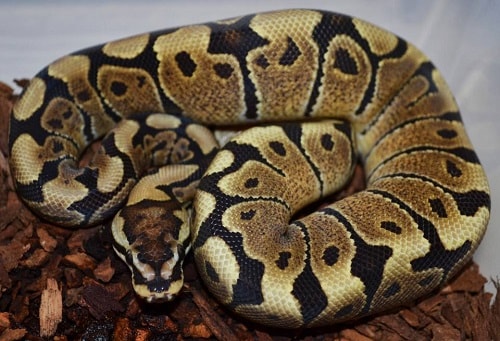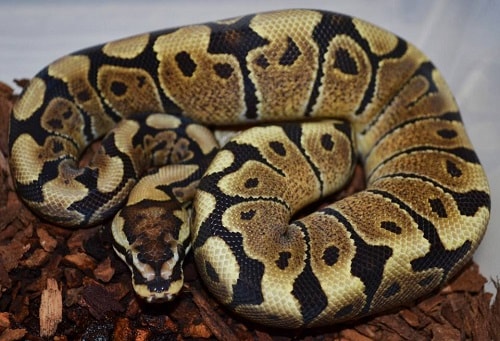 Often times resembling that of a Normal, a Woma can be distinguished due to its thin banded pattern, yellow lips, and clean belly.
As a Dominant gene, the Woma is beloved by breeders for its ability to produce really unique and striking mutations.
Yellow Belly Ball Python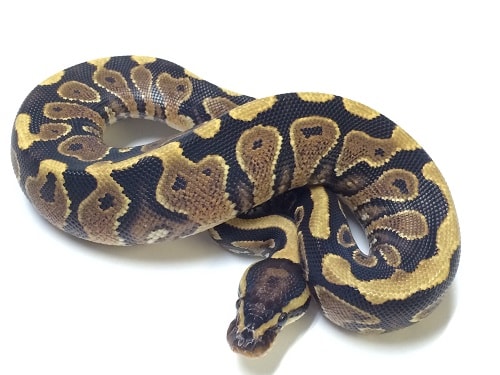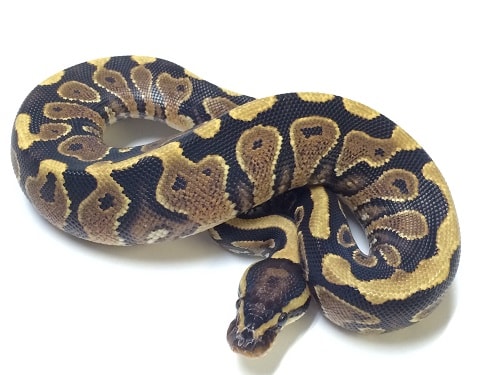 If you're not looking closely, you may just miss this morph entirely!
Co-Dominant, Yellow Bellies can look quite normal, with the exception of a slightly yellowed, clear colored belly.
However, some Yellow Bellies can look more dramatic as well, with rich coloration and a checker pattern on the edge of their underside.
How to Identify Ball Python Morphs
Naturally, when you're looking to identify what morph a particular ball python is, you're going to typically want to look at…
Overall Color
When looking at the body of the snake… what colors tend to stand out? How about the saturation and intensity of these colors?
If you can develop a keen eye for coloring especially in regard to distinguishing similarly colored snakes from one another (think a Lesser and a Butter), you'll pretty much have the hard part down.
Pattern
Next to color, I would venture to say being able to spot pattern differences amongst morphs is about the surest way to distinguish them from one another. You'll want to look at a number of things when examining pattern…
For starters, examine the alien heads on the snake. How are they shaped? Do they tend to have 1 or 2 eyes in them?
Next, move on to the flames. You can find the flames by looking for lighter areas that come up the sides from the belly, they kind of resemble flames.
Lastly, you'll also want to consider the overall shape of the markings that run down the dorsal. For instance, are there stripes, bands, blotches, or something else?
Blushing
Although not one of the more important physical differences to note, blushing can prove helpful with some morphs. First, let's make sure you understand what "blushing" refers to in ball pythons…
Blushing refers to the changing in color of the pigment that runs down the dorsal (spine) of a ball python. Blushing can appear lighter or darker, than the surrounding colors and can also be seen on the head of some morphs as well.
To see how helpful blushing can be, look at the picture of the Phantom and Mojave below. Pretty similar, right? Where you can really tell one from the other, is by noticing the variation in blushing.
See how the Mojave (left) has more of a noticeable blushing from dark brown to lighter brown along the back?
Eye and Head Color
Although examining the eye and head color won't always help you instantly identify a morph, it can be helpful. For instance, some snakes will appear similar but have slight differences in the coloring of their heads, such as with the Vanilla's blushed head that makes it obviously different from a normal. 
What Is the Most Common Ball Python Morph?
The most common Ball Python morphs are going to naturally vary over time. For instance, decades ago BEL were ALL the rage and breeders were producing them at a lightening pace.
However, whereas the BEL used to be a $20,000 snake during its peak in popularity, you can now expect to pay around $1,000 to $1,500 on the high end. You'll also see less of them in rotation as well.
The Most Common Morphs You'll Find Today Are… 
Pastel
Fire
Spider
Pinstripe
Mojave 
What is the Most Expensive Ball Python Morph?
Naturally, the most expensive ball python morph is going to be one that is extremely rare. As such, it should come as no surprise that when you produce a new morph, you can pretty much charge as much as you want!
You'll find a lot of instances online where people claim to have heard about ball pythons costing as much as $100,000 or even $200,000… but there isn't much tangible proof to back this up.
Most of the morphs on the list above are pretty affordable, at under $500 a piece since they are the most common or single gene morphs. However, there are many unique morph combos that have created snakes that cost well into the thousands of dollars…
According to Forbes, a female Lavender Albino can sell for as much as $40,000, whereas a Striped can command as much as $20,000.
When you're browsing online, you may come across listings for the Sunset ball Python, which was only invented several years ago. It has even been reported that a Sunset Ball Python can sell for up to $10,000.
And lastly as one final example, Coral Glows can be quite expensive with females costing as much as $10,000 and the rarer male even more than that.
What Are Cheap Ball Python Morphs?
Naturally, a regular ball python is going to be the cheapest, with some selling for as little as $7. If you are committed to the idea of purchasing a morph, you can expect the following to be relatively inexpensive…
Spider
Cinnamon
Pinstripe
Fire
Pastel
Yellow Belly
Woma
Lesser
What Ball Python Morphs Have a Wobble?
As a neurological condition present in several different morphs, "The Wobble" affects the motor skills of a ball python typically in the head or neck. The Wobble can vary in terms of intensity from snake to snake.
Some snakes have very little Wobble and as such, can experience a pretty normal quality of life. Other snakes can have a Wobble so dramatic, they may struggle with eating and even staying upright. However, in extreme cases typically a snake with Wobble will just struggle with striking accurately, so be careful when hand feeding!
Fortunately, the Wobble doesn't really present any serious issues, but it can become exaggerated with stress so try to keep them calm and happy.
The Morphs Most Likely to Have The Wobble Are…
Spider
Champagne
Bumblebee
Woma
Hidden Gene Woma
Super Sable
Power (AKA a Super Spotnose)
Ball Python Morphs Conclusion
As you can now see, there is truly an infinite number of ball python morphs available once you start including all of the possible combos and unique pairings breeders experiment with. And when it comes to appearance, well, you can pretty much expect an infinite number of possibilities with this as well!
However, when it comes to narrowing down the playing field, you can expect the aforementioned 30 morphs to represent the majority. If you are somewhat familiar with these 30, you should be at least somewhat decent at identifying morphs.
Just remember to consider the overall color and pattern (specifically, alien heads, flaming, and shapes) above all else when trying to distinguish one morph from another.