Pet ownership can quickly develop into an expensive (opens in new tab) passion and hobby.
If you're trying to decide your next companion and are interested in pet snakes, you may be curious about how much they cost to own.
Luckily, the overall cost tends to be lower than most other common pets like dogs, cats, rodents, and birds.
However, the actual price of a snake is not only the initial cost of the animal itself.
You see, aside from the perfect moniker, your new slithery companion needs a proper enclosure with heating, food, and possibly even veterinary care. Each of these comes with a cost which we'll explore in this article.
The Cost of Buying a Snake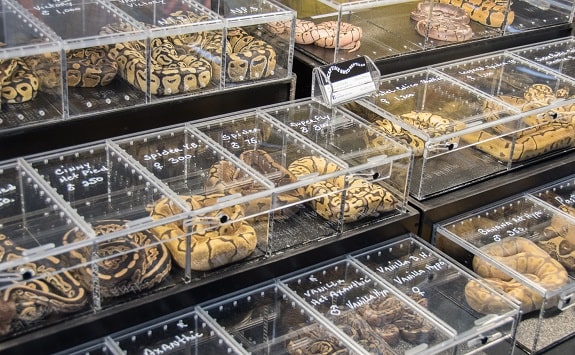 Pet snakes typically cost around $75 or more. This can seem like a lot if you compare them to other little pets, like parakeets, hamsters, or guinea pigs.
Snakes, such as the Ball Python, have much longer lifespans than other small, cage-dwelling pets, upwards of twenty years.
They also simply hold a special place in some people's hearts, and a furry rodent wouldn't be able to compete.
🤓 Expert Tip: Some snakes can be obtained for as little as $20 to $50, while fancy morphs of rare species can cost hundreds if not thousands of dollars. It's even possible to get a snake for free if someone desperately wants to get rid of their pet but be warned: nothing in life is truly free! Some people try to quickly get rid of their slithery pal for free when it is sick, or very old.
| Snake Species | Average Cost to Acquire |
| --- | --- |
| Garter Snakes | $20-$300 |
| Corn Snakes | $40-$1,000 |
| Hognose Snakes | $100-$700 |
| Sunbeam Snakes | $50-$125 |
| California Kingsnakes | $60-$300 |
| Egg Eating Snakes | $60-$100 |
| Milk Snakes | $55-$300 |
| Ribbon Snakes | $15-$25 |
| White Lipped Python | $125-$150 |
Garter Snakes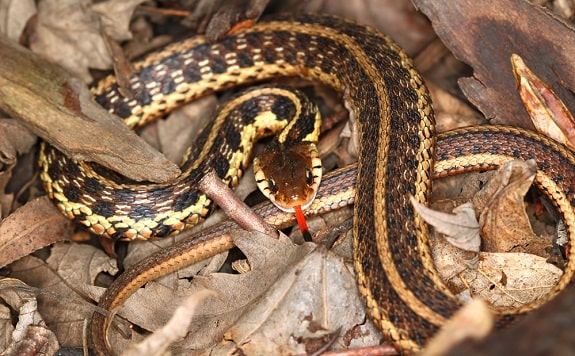 Garter snakes make attractive and interactive pets that stay relatively small.
Many North American people are familiar with them since they are native to most of the continent. There are several different subspecies and localities available.
Corn Snakes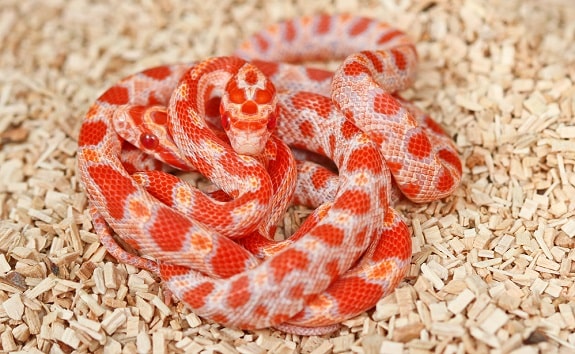 Corn snakes are probably the most common species of snake you will find in a pet store.
They are colorful and easygoing, and their husbandry is simple.
Their popularity and prevalence in the pet industry have kept their typical price low, although rare morphs can fetch a pretty penny.
If you're considering buying a corn snake as your very first snake, you may be interested to see how it stacks against the ball python—another popular first snake for beginner snake owners.
Hognose Snakes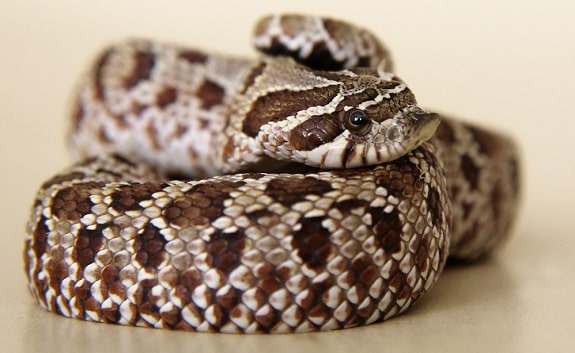 Hognose snakes are an up and comer in the pet industry. They have big, sassy yet sweet personalities, and they are available in a variety of morphs.
Sunbeam Snakes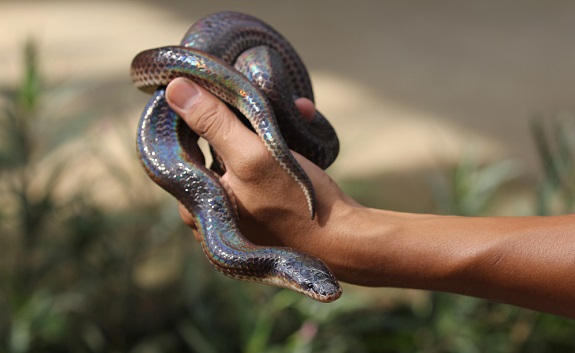 Sunbeam snakes aren't as prevalent as pets. This is probably due to their fossorial (burrowing) behavior and the difficulty of breeding them in captivity.
Still, their beautiful iridescent scales and uniqueness attract many snake keepers.
Most sunbeam snakes on the market are wild-caught, otherwise referred to as field collected. There aren't any morphs, so their pricing is relatively consistent.
California Kingsnakes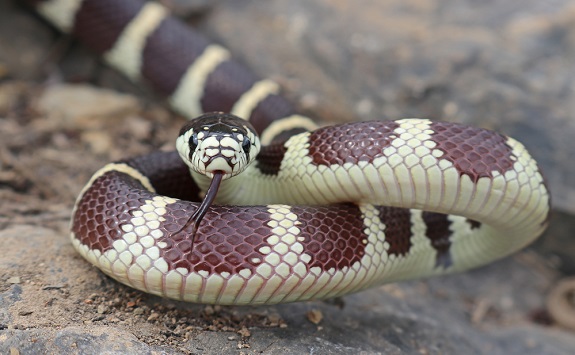 California kingsnakes are almost as common as corn snakes, and their level of care is similar. They are in the same tribe of snakes – Lampropeltini.
Kingsnakes grow a bit larger than corn snakes, and they cost slightly more. There are morphs available.
Egg Eating Snakes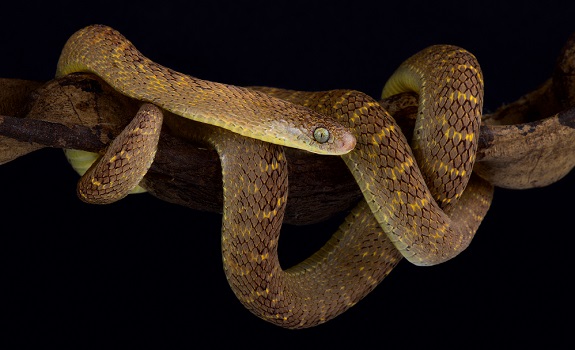 This unique species is excellent for someone who doesn't want to deal with feeding rodents to their pet snake. Instead, this snake eats eggs exclusively – usually, quail eggs.
Unfortunately, they aren't commonly bred in captivity, so most individuals for sale are wild-caught, and there are no morphs to choose between.
Milk Snakes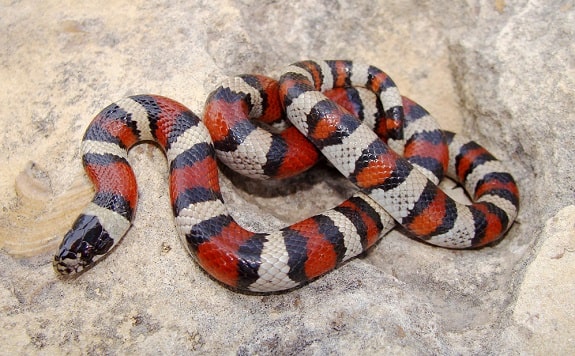 This is another small colubrid that is common in the pet trade, and closely related to kingsnakes and corn snakes.
Milk snakes tend to be on the smaller side compared to their cousins, but some species do get large.
There's a wide variety of natural color and pattern variation available between different milk snake species, and there are also morphs available.
Ribbon Snakes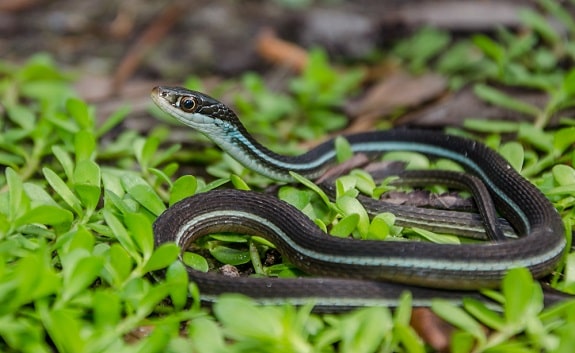 Ribbon snakes are related to garter snakes, but they stay much smaller. They tend to be more active, too.
They aren't very common in captivity, and most specimens for sale are field collected, but a ribbon snake can make the right pet if you want something like a garter snake, but you don't have space for one.
They also tend to be more aquatic.
White Lipped Python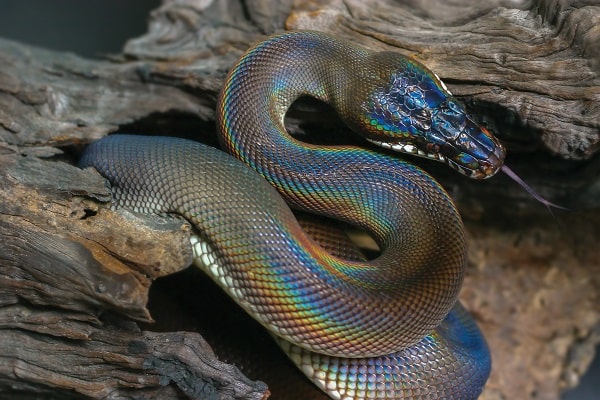 The White Lipped Python is a gorgeous, medium sized python with iridescent scales that create a rainbow-colored sheen. Reaching 6 to 7 feet as an adult and living up to 30 years in captivity, this snake is better suited for experienced reptile owners.
Although undeniably beautiful, these snakes can be aggressive and are prone to their fair share of health issues.
The Cost of Owning a Snake
Alright, now you've decided on the species of snake that you want to purchase.
As you may have learned, costs among different species tend to fall in the same $50 to $150 range at the low end, so you can be at ease with worrying less about the initial cost and more about whether you enjoy the snake's appearance and behavior.
Now it's time to purchase your supplies, which will likely make up at least 50% of your total investment in snake ownership.
Feeding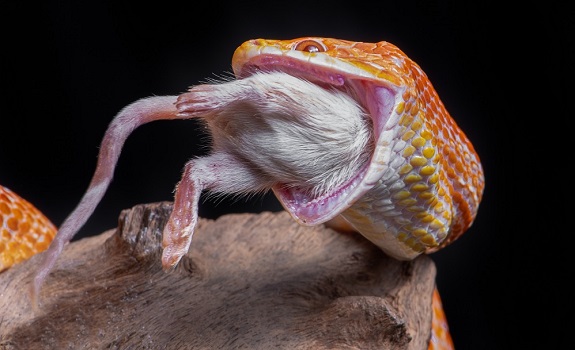 If your snake eats mice or rats, you are in luck as far as being able to bargain hunt and choose where you purchase your animal's foods.
Most chain pet stores sell frozen feeder rodents, almost all reptile and exotic pet shops sell live and frozen feeder rodents, and there are even many small local hobby breeders that may sell to you.
Websites specializing in feeder animals for reptiles often have sales, so it can be a good idea to subscribe to their newsletters.
🤓 Expert Tip: To save money feeding your snake, keep an eye out on local sale sites like craigslist. Sometimes, people get rid of their snake, their snake starts eating a different size of prey, or their snake is simply not interested in frozen food after its owner made a large purchase. In these instances, people are usually happy to sell them at a discount or even give them away!
Purchasing frozen rodents in bulk can save you money and time, compared to going to your local pet shop to buy live every time your snake needs to eat.
Different species and ages of snakes require different sized prey and have different metabolisms. For example, most juvenile snakes eat every 5-7 days, while some adult snake species only need to eat every 10-14 days.
Using a corn snake as an example, you will start off feeding one pinkie every seven days. If you can get pinkies for $0.25, that's only $1.00 per month. By the time the corn snake is an adult, it will eat one jumbo mouse every 14 days.
If you are paying $3.00 for a jumbo mouse, that is $6.00 per month. Bigger snakes and snakes with higher metabolisms will cost more to feed.
If your snake requires specialty prey items, like frogs, lizards, eggs, or fish, calculating the feeding cost can become even more difficult.
Enclosure & Setup Maintenance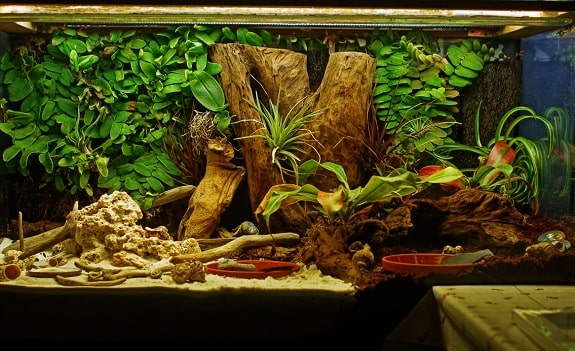 Your snake's enclosure and setup can easily cost as much, if not more than you paid for the actual snake.
Luckily, this can be as cheap and simple or as expensive and elaborate as you'd like. Let's break it down.
Enclosure:
1. Simple and cheap. Simple and cheap would be a plastic storage tub for $5 to $10, or a second-hand glass aquarium for free or very cheap.
2. Traditional and convenient. If you're looking for something traditional and convenient, many common pet snakes can start in a ten-gallon or twenty-gallon long aquarium from any pet store. These typically cost $25 to $35.
3. Elaborate. The sky is the limit when it comes to elaborate enclosures. You can have the terrarium of your dreams custom designed into your furniture, or even dedicate a whole bedroom to a giant snake. These types of enclosures will easily cost you into the thousands of dollars.
Usually, you will need to purchase two enclosures over your pet snake's lifespan – one for growing up in, and one to suit its adult size. If the snake you are purchasing is already an adult, an enclosure is a one-time expense.
Substrate:
1. Simple and cheap. Simple and cheap options include things you probably already have right now, like newspaper or paper towels.
These aren't attractive substrate choices, but they make it easy to keep your pet's enclosure clean and identify potential illnesses, and they're practically free.
2. Traditional and convenient. Traditional, convenient substrate depends on the species of snake that you have.
Still, it is typically either aspen shavings for desert species or some type of wood or coconut-based shavings for tropical species.
You can expect to pay $5-$20 for a bag of bedding, depending on the type and how much you need.
3. Elaborate. Elaborate substrate options can consist of soil, living fungus, bacteria, and insects to maintain a bioactive set up for your snake.
You can expect to pay between $40 and $100, or more, for this type of set up, but it is low maintenance after it's established.
The substrate is a recurring expense since it will need to be changed at least every month unless your substrate is bioactive.
Hides and Decorations:
1. Simple and cheap. It's easy to go simple and cheap in this department. The only limit is your imagination: Paper towel rolls, cardboard boxes, plastic bowls, terra cotta pots. The list just goes on.
Look around your house, and you're sure to find something that your snake will enjoy hiding in, climbing on, or drinking out of for free.
You can even get rocks and branches from outside if you disinfect them properly.
2. Traditional, convenient options are readily available at your local pet store. Terrarium furniture typically costs $10-30 per piece. At a minimum, you will need two hides and one water bowl, totaling $30-$90.
3. Elaborate. Some folks may opt to have their snake's furniture custom molded from clay or purchase elaborate pieces of driftwood and rock. Others prefer to decorate their enclosures with real plants.
Again, the sky is the limit, depending on the look you envision for your pet's home.
Like your pet's enclosure, these items will likely only need to be purchased once or twice.
Heating:
1. Simple and cheap. Simple and cheap is difficult and probably unwise to seek out in this department. Faulty heating equipment can injure or kill your pet or even cause a house fire.
You might have luck looking for second-hand equipment but be sure to carefully check for damaged elements and functionality.
2. Traditional and convenient. The price of traditional and convenient heating setups depends primarily on your species and your home.
Is your home warm or cold? What temperature does your snake prefer? Does it require lighting?
Depending on how you answered the questions above, you may only need a heating pad, or you may need a heating pad and a heat lamp. You may need two heating lamps – one daytime bulb and one nighttime bulb.
All heating elements should always connect to a thermostat, usually purchased separately.
The total cost will depend largely on your circumstances, so here are some average prices for different pieces of equipment:
| Equipment | Average Cost |
| --- | --- |
| Dome Reflector Lamp | $10-$20 |
| Heating Light (or CHE) | $5-$10 |
| Heating Pad | $15-$40 |
| Thermometer | $5-$10 |
| Thermostat | $10-$200 |
The most basic setup requires at least an under-tank heater and a thermostat, costing around $30, minimum.
3. Elaborate. Elaborate heating setups for large enclosures or cold homes can easily cost over $100.
Heating is a one-time purchase. You can even move the same heat set up from your snake's baby enclosure to their adult enclosure when ready to switch.
Special Care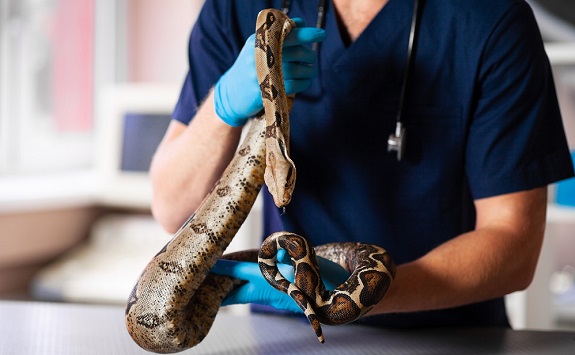 Snakes typically don't require much veterinary care compared to other common pets, unless they're sick. Here are some standard procedures and fees for snakes:
| | |
| --- | --- |
| Office Visit | $50-$100 |
| Fecal Parasite Test | $10-$30 |
| Parasite Treatment | $15-$40 |
| Antibiotics for Respiratory Infection | $50 |
| X-Rays | $50-$150 |
| Surgery (Tumor, Egg Dystocia, Etc.) | $500-$1,000 |
These costs vary greatly based on your location, so it's best to get acquainted with your local snake veterinarian and ask about these prices before any issues arise.
General Care
After you've set up your snake's enclosure, the only recurring costs are substrate and food.
Unlike dogs and cats, they don't require vaccines, monthly parasite preventative, treats, or fancy new toys.
These costs add up with our furry companions, which is why snakes and other reptiles make for more affordable and low maintenance pets.
Conclusion
When it's all said and done, you can expect to pay $150-$200 when you initially purchase your pet snake.
This cost can be much lower if you bargain hunt and utilize some everyday household objects, or much higher if you want a fancy animal or enclosure.
Ongoing costs depend on your circumstances, but you can expect food and bedding to cost around $20 a month or less.