Can you remember the last thing you ordered online? I know I can.
It's certainly amazing how convenient life has become for everyday consumers.
But as far as we've come, it's surprising that consumers still can't get live feeder mice shipped directly to our doors.
In fact, shipping mice and rodents are prohibited by major carriers like UPS, FedEx, and USPS (more on this later).
So, what is a good snake owner to do?
Fret not, there are alternatives to buying live feeder mice. In fact, you're going to discover four options now in this post. Stay tuned.
What?! No Live Feeder Mice Deliveries?
Unfortunately, yes. This is the case.
You see, unlike their reptile counterparts, major mail carriers like UPS, FedEx, and USPS have deemed mice and rodents as restricted items to ship.
But regardless if you have a picky eater who will only take live mice or simply haven't purchased them in a while, there are alternatives which we'll discuss now.
Alternatives to Getting Live Feeder Mice Delivered
Pet Stores
Local Breeders
Reptile Expo's
Breeding your own
Frozen Feeder Mice
Live Feeder Mice at Pet Stores
You could certainly buy feeder mice at your local pet store, but there are some things you should know first.
Availability and size can be limited. What I've learned from past experiences is to call ahead! Oftentimes, it is not uncommon for local pet stores to be out of certain size mice.
Learn from my mistakes and call beforehand to ensure availability before you waste time and money.
Live Feeder Mice from Local Breeders
This may be the best alternative to buying them online as you may be able to get them delivered.
To do this, there are two places that I recommend looking:
Craigslist
Facebook Reptile Groups
Here, you will likely encounter two types of individuals: those who breed feeders for profit and those who breed for personal use but have leftovers they are willing to part with.
Facebook
Go to Facebook and search for "Live Feeder Mice" under groups or start by looking into these groups. You should also check other reptile related Facebook groups too.
Ideally, you find someone like this.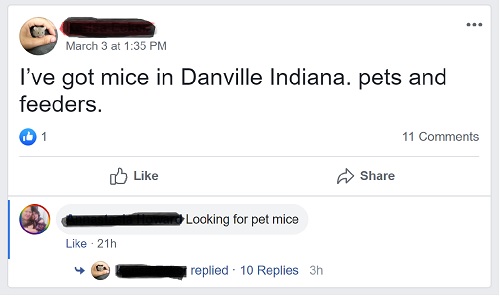 Craigslist
Start by searching for your local area. Then, use keywords such as "Live Feeder Mice for Sale". If you're in a densely populated area, then the chances of you finding something like the following is high.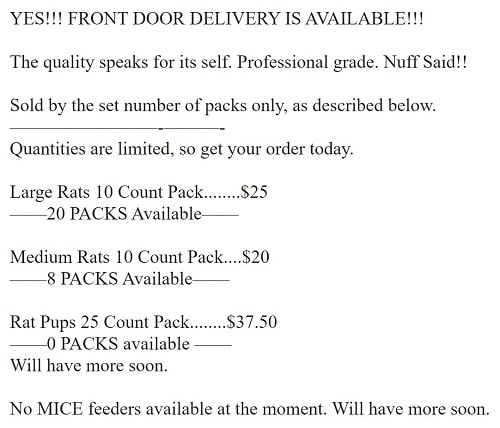 Reptile Expo's
Have you ever been to a Reptile Expo before? If so, then you know there are more than just reptiles for sale.
In fact, breeders of all sorts flock to these events to meet face to face with consumers and bring many types of species with them. Here, you can both frozen and live feeder mice.
Find out when and where the next reptile expo in your area is by clicking here.
Breed Your Own
Breeding your own can be a great way to reduce your expenses. As we all know, caring for snakes can get expensive, especially if you have many to care for. However, this option doesn't make sense if you only have a single snake.
If you hate the way they smell or don't want to go through the hassle of breeding your own, then this might not be your best option.
Nonetheless, this is a viable option for those looking for live feeder mice and instances where it makes sense.
Buy Frozen Mice Online.
With this option, owners buy frozen mice and thaw them before feeding them to their snakes.
This is the option I personally recommend since the benefits of feeding your snake frozen outweigh their live counterparts.
I use this brand in particular.
Benefits of Feeding Frozen Vs. Live Mice
Cheaper. Buying frozen mice allows you to save money since you can buy them in bulk.
Safer and easier. Feeding your snake a live animal is a stressful situation for both the snake and the mouse that's about to be killed. During this encounter, the feeder could easily bite and injure your snake as it reacts to the snake trying to eat it.
More humane. Frozen feeder mice die from carbon dioxide gassing which is more humane compared to being grabbed, strangled, and suffocated by your snake.
Conclusion
Some snakes will only take live feeders. It's not the end of the world if you can handle it. Just know that there are various alternatives to getting live feeder mice delivered to your door that you can take advantage of!