Have you ever wished you could both learn about a wide variety of different reptile species and get up close and personal with them all in a single setting? If so, Repticon is the answer to that wish.
Like Comic-Con, Gen Con, and the seemingly countless array of other conventions popping up around the country, Repticon gives fans of reptiles the opportunity to immerse themselves in a world full of exotic reptiles, learn from the very best handlers and educators, and even potentially leave with a new friend.
Sound like something you or someone you know would be into?
If so, keep reading to discover everything you need to know about this amazing event PLUS how to go about actually getting tickets.
What is Repticon?
Repticon is an exhibition that is held around the United States in over 20 states and 50 cities. Numerous varieties of reptiles are showcased at the expo, which allows potential buyers to ask questions, interact with the animals, compare breeders, and possibly buy a new pet.
The goal of Repticon is to facilitate and create accessible exhibitions to allow people to gather information and make informed decisions about any potential reptile they are interested in.
Reptiles often have long lives so learning proper care and gaining information is one of the MOST important parts of Repticon.
Presentations are offered throughout the expo on a variety of topics that may include information about:
Specific reptilian species

Proper care of reptiles

Troubleshooting problems that might arise when owning a reptile

& Much more
Repticon is often held in fairgrounds or convention centers. Given the sheer number or attendees, handlers, and educators, this event can take up a lot of room with hundreds of displays.
A typical reptile expo is humming with activity and has the feel any exhibition that might be attached to a fair or carnival.
Visitors will find an enthusiastic, reptile-loving crowd at Repticon as well as merch, toys, and snacks. If you aren't quite ready for your own pet reptile, it's likely you can take home a stuffed version of whatever creature enthralls you.
Additionally, Repticon will also have non-reptile pets on display – like hedgehogs and chinchillas. And unlike the smaller rodents you may see, these are not meant to be reptilian snacks!
What Types of Reptiles You Can Buy at Repticon?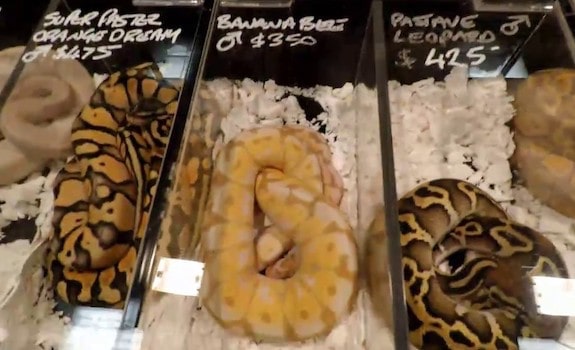 The types of reptiles found at Repticon can vary drastically from event to event. The availability and diversification of reptiles will typically depend on the particular event's size.
Some events are massive. As such, you'll find almost any reptile you can dream of at the exhibitions!
Meanwhile, other events are smaller and may have the usual, more common, suspects along with a few surprises.
However, reptiles are not the only animals for sale at Repticon. Amphibians and other "exotic" species are also allowed to be displayed.
The way it works is that exhibition coordinators accept applications from vendors, who are looking to sell their animals at the convention.
This structure prevents the exhibits from being the same each time Repticon is held.
How Long Does a Repticon Event Last?
Repticon is pretty reliable as far as its date and time structures. Repticon is held on Saturdays from 10 a.m. to 5 p.m. and 10 a.m. to 4 p.m. on Sundays.
This means that if you're planning on attending, you can pretty much be prepared to dedicate around half your day to the event if you plan to stay the whole time.
Of course, this will also depend on driving time and how big the particular event you're going to is. However, even some of the smaller events can keep visitors enthralled for a solid 3 or 4 hours.
Now, if you want to REALLY maximize your time, you can also consider purchasing a VIP pass.
This will allow you to enter the event an hour before general admission. This is a great option for those who could benefit from more one-on-one time with handlers and experts.
When is the Next Repticon?
Luckily, Repticon is a pretty popular event and takes place quite frequently. No waiting a whole year or anything close to that!
Typically, you can expect around 10 cities a month to have a 1 or 2 day event. This means, that virtually anyone should be able to attend at least one (if not several) Repticons a year!
For specific dates and cities, feel free to check out their event calendar here.
The Biggest Repticon Events
Repticon show sizes vary from year to year and event to event. Exhibition grounds size, time of year, and location are a few things that can affect how big the show will get.
However, a couple shows are guaranteed to be some of Repticon's biggest events every year.
The ICEXPO in Durham AKA the "International Carolina Expo for Reptile and Amphibian Keepers" started in 2011 in Florida.
The following year it moved to South Carolina, and the year after to Durham, North Carolina, where it has remained ever since.
Additionally, the Repticon Broward-Dade Show is another big exhibition.
The biggest in South Florida it features educational seminars, top breeders, reptiles, amphibians, and exotics, plus kids' activities and support products for animal care.
Animal Care and Quality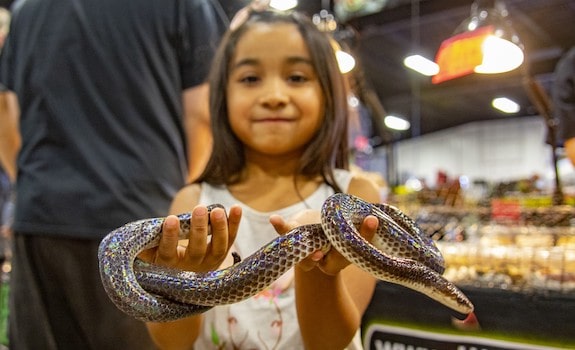 It's not always easy to know the quality of the animals that you purchase. You try to buy from reputable breeders and dealers, but things don't always work in your favor.
Repticon is clear in their FAQ that while they require vendors to only sell animals which are in good health and legal, they stress that the buyer should research and evaluate before purchasing an animal.
Every buyer should collect contact information from the seller so they can get in touch with them if there are any problems.
Furthermore, Repticon does not restrict sellers to only sell animals which were bred in captivity, but also allows wild caught animals to be sold where it is legally acceptable.
Poisonous animals are also available but will be found in a separate "hot" show or room, if they are on display at the exhibition.
If exhibition visitors see animals that look sick or otherwise unwell, they are encouraged to discuss this with the vendor. If the issue is not resolved they can contact a Repticon employee at the information booth.
Concerns about vendors can also be addressed after the expo by contacting Repticon directly.
Coupons and Price Discounts for Repticon
Repticon does not typically have any coupons or price discounts, although there may be local promotions at each event. The best priced tickets depend on when you want to go to the show.
Regardless of when you decide to go, you can expect tickets to be pretty affordable.
If you want to beat the rush on Saturday morning, buy your VIP tickets online, which will give you access to the event an hour before the doors officially open. For an adult, this will cost $12.
If you are planning on making it a two-day and are not worried about early entrance on Saturday, then the best bet is buying a two-day pass at the door, which will cost an adult $15.
If neither of those options are relevant to you, and you just want to drop in on your own time to see what's happening, then you can get a ticket for $10 (per adult) at the door.