Have you ever wondered just how intelligent reptiles are?
Or perhaps what the most intelligent reptiles are?
Reptiles are not just "living rocks" as some people call them. Their cognitive powers are still being studied and continue to surprise researchers, caregivers, and those that train them.
In order to understand intelligence in reptiles, we need to look at what that means…
In humans, intelligence may mean being able to solve a complex math equation, or knowing when to walk away from a dangerous situation.
And while reptiles were never going to develop the Chaos Theory or dabble in quantum physics, they do have the capacity to learn, grow, and adapt from their experiences. This is the very basis for operant conditioning, the most common way to train animals.
Every living creature learns by operant conditioning. Cues are taken from our environment and whether they were positive or negative will determine how likely they are to be repeated.
The trainability of animals depends largely on their ability to remember and learn from their experiences.
So, which reptiles top the list of MOST intelligent? Keep reading to find out!
Most Intelligent Reptile #1: Giant Tortoises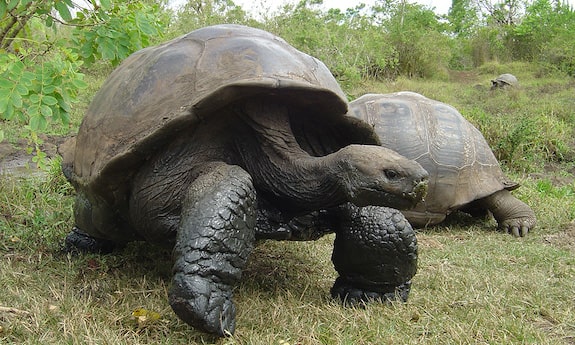 The giant tortoise, of which there are many variants, are truly fascinating creatures. They weigh about 700 lbs and can live over 100 years, making them the longest-living vertebrate.
They originate in the Galapagos Islands and around the Western Indian Ocean.
A new study came out in 2019, that showed how these tortoises can be trained and the results were quite impressive.
The study was conducted in two different locations, at the Hebrew University in Jerusalem and the Schonbrunn Zoo in Vienna. The only difference between the two, was that at one they were trained in groups and the other individually.
Two types of tortoises (Galapagos and Aldabra) were taught to bite on a ball of a specific color: blue, green or yellow.
When they came back to the activity three months later, they were still able to remember it and complete it.
It was repeated an impressive nine years later and the tortoises once again remembered and bit the appropriate ball!
The tortoises that were taught in groups actually learned faster than the ones that were taught individually, showing how they learn through observation.
This study demonstrates that tortoises are able to differentiate between colors, learning through operant conditioning, and hold an experience in their memories for years.
While you can't own a giant tortoise as a pet, there ARE other amazing beginner-friendly pet tortoise options available.
Quite different from a study done in the 17th century where a Aldabra tortoise's brain was entirely removed and the tortoise lived for six months leaving researchers to assume that tortoises had limited cognitive function.
Most Intelligent Reptile #2: Monitor Lizards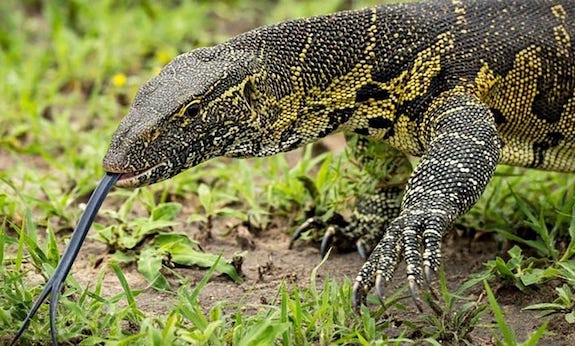 The monitor lizard is native to Oceania, Africa and Asia, but is also found in the Americas where it is an invasive species.
Species range in size from under one foot to 10 feet, the largest of which being the Komodo Dragon.
A study done at the San Diego Zoo using Savannah Monitors found they could actually count!
They fed the monitors snails in separate chambers, conditioning them to expect a certain amount of snail in each chamber.
If the monitor was expecting four snails in a chamber, but found only three, they would search for the other snail even though the next four snails were available.
The study determined they could count up to six snails, but any larger quantities were considered a batch and they would eat them without counting.
Additionally, Monitor lizards are also trained at zoos, like the London Zoo, to target objects. This allows handlers to get them into positions for easier handling and observation in order to maintain their health and safety.
Next to Monitor lizards, the Caiman Lizard is also a very smart reptile.
Most Intelligent Reptile #3: Crocodiles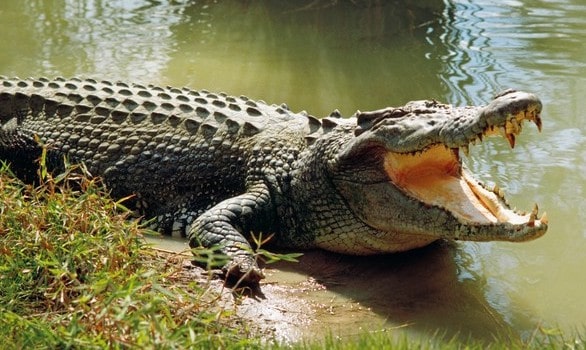 Crocodiles are such large, powerful creatures that zoos and other people who handle them have worked hard to find out better ways of managing their behavior in order to keep both themselves and the crocodiles safe.
And through this behavior management it has been discovered just how much crocodiles will respond to operant conditioning.
In captivity, crocodiles have been trained, or conditioned, to respond to their name, touch a target, and station – where the crocodile is told where to go and must stay there during training.
Additionally, because crocodiles are able to see color their training tools are specific to each animal.
In the wild, saltwater crocodiles talk to each other using four different calls. Using these calls, young crocodiles can swiftly warn of danger or call for help much like that of a dolphin or a killer whale.
And while it was previously believed that crocs typically climbed trees to enjoy some good 'ol fashioned Vitamin D, a new study is suggesting otherwise…
It is now believed that they also climb trees to use the height as a vantage point to survey their neighborhood and look for threats.
Yet, one of the smartest things that wild crocodiles do is perhaps also the scariest.
They have been observed baiting their prey by balancing sticks on their noses and remaining motionless for hours. When a bird tries to grab the stick it finds itself victim to the crocodile's powerful jaws.
By the way, do you know the difference between crocodiles and alligators (and that they are evolutionarily further apart than cats and dogs)?
⭐️Fun Fact: Did you know that Saltwater Crocodiles are actually the largest living reptiles in the world? It's true! The average adult male can measure up to 23 feet long and weigh well over 2,000 pounds!
Wrapping Up Most Intelligent Reptiles
Reptiles were previously thought to have limited cogitative capacity because they are so different from mammalian creatures. They were not considered as trainable as a dog, cat, horse, or dolphin, so it was determined they just weren't smart.
However, reptile keepers are realizing that it's not that the animals aren't smart, it's that their instincts are different and their brains are unique.
In some training situations, they may become startled and freeze which is not ideal for training. In comparison, in the same scenario a mammal may be more easily maneuvered into a favorable position.
In reality, both wild and captive reptiles have intelligence, which is demonstrated in their adaptability to an environment and their conditioning.
This means that pet reptile owners can use operant conditioning methods to train their pet, but they will need a heavy dose of patience and creativity to communicate with their reptile.
Repeatedly using cause and effective (ex. desired behavior equals treat reward) may get your reptile exactly where you want him.