You've waited. You've read. And most of all? You've considered all your options. Now, it's FINALLY time for you to get your first lizard! But how do you narrow down so many seemingly great choices into a list of the best pet lizards for you?
Here we'll look at the three lizards that work well for beginner reptile owners.
We've scoured the Internet, listened to personal stories, and tapped into our own personal experience to compile this list that will help you narrow down your choices to find the right lizard for your situation.
What to Consider When Choosing the Best Pet Lizard
When considering the best pet lizard, there are several factors you'll want to consider above all else.
Sure, you might have your heart set on a cute little lizard because of its bright colors or pattern but is it actually a practical choice for you?
Before jumping into our picks for the best pet lizards before beginners, let's briefly discuss the 3 most critical components to consider when adding a new pet into your dynamic. 
Consideration #1: Size and Care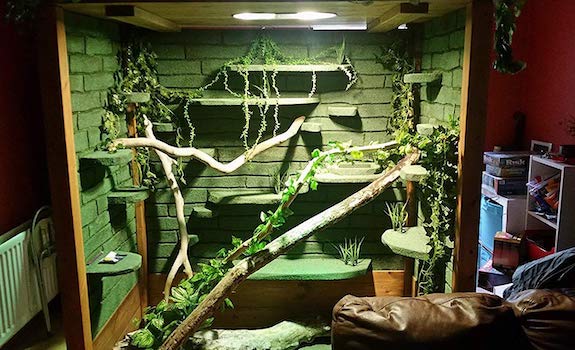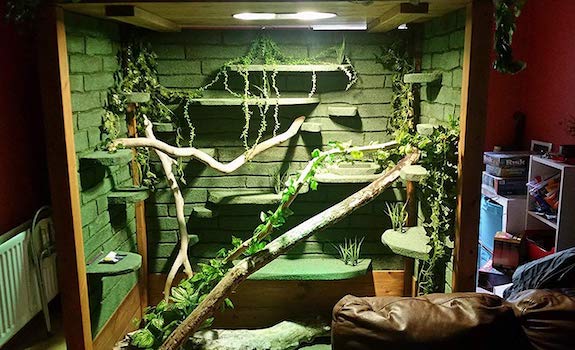 How much space do you have? And how much space do you see yourself having in the coming years?
You see, some lizards, like the green iguana, will reach over 6 ft and will need an enclosure that gives him plenty of room to climb and crawl.
Other lizards, like the green anole, only grow up to about eight inches. As such, these little guys only need a habitat big enough for exploration.
Habitat size coordinates with the lizard's size. For example, a green iguana will need a habitat that is at least 12 feet, by six feet, by six feet. This means that a good portion of a room in your house, or even a whole room, will be dedicated just to housing your iguana.
✅Pro Tip: Beginners should not take on a lizard with such expansive housing needs until they know they love lizard husbandry. You MUST be willing to give up part of your home to a large lizard's habitat.
Along with the habitat, feeding and general care requirements are also magnified with larger lizard species.
For example, the Savannah Monitor is often idolized by those dreaming of their own, giant lizard. The Savannah Monitor is a magnificent lizard with a broad, stocky body and voracious appetite.
At first, you may find the amount that the Savannah Monitor eats to be a fantastic reason to get one, but creating a balanced, healthy diet with these lizards is very tricky and the unwitting owner often allows them to become overweight – a dangerous predicament for them.
It's not only size that dictates how much care a lizard needs. Some lizards are more tolerable of imperfect environments, whereas others will not thrive in a habitat that does not mimic its natural environment.
Feeding requirements, lighting, heating, humidity, and adult size are ALL critical when evaluating which lizard is right for you.
Consideration #2: Lifespan
One of the hardest parts about owning a pet is having to say goodbye to it when it ultimately passes before you do. You may think that getting a lizard with a long lifespan will provide you with companionship and delay the inevitable.
However, one of the reasons so many lizards are relinquished to reptile rescues is because the owners housing or lifestyle situation has changed.
At any stage of a person's life, it's hard to imagine what the next twenty years will look like, but that's how long many lizards may live, with a few living even longer.
⭐️Fun Fact: The oldest known pet green iguana lived to be 29 years old. This just goes to show it is just as important to consider lifespan with reptiles as it is with any other pet, be they furry, feathered, or scaly. 
When considering a lizard, it's best to lean toward a species with a lifespan of years instead of decades.
Of course, if you find yourself completely enthralled with herpetoculture you can start branching out and trying different species, but in the beginning? Try to give yourself the freedom of a lesser commitment.
The smaller lizards live an average of 5 to 10 years, which a good commitment level for beginner reptile keepers.
 Consideration #3: Temperament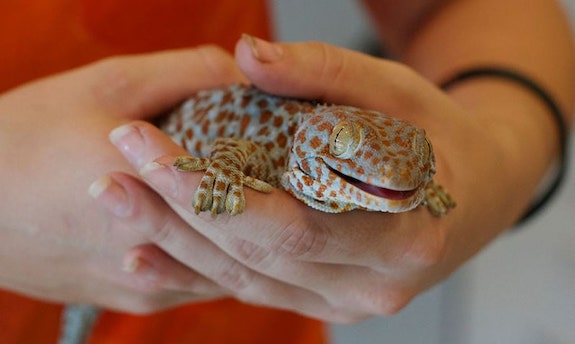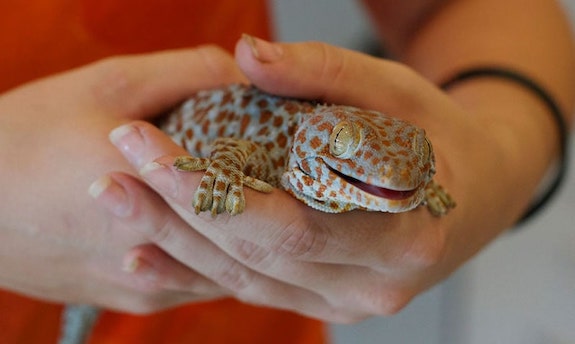 To be perfectly honest, it can be hard to distinguish temperament between reptile species…
At first contact, they may all appear aloof and indifferent. However, there are some variations between lizard species that will allow you to increase the odds so that you get the temperament you want in a lizard.
The green iguana can have a personality that is laid-back and relaxed, but it can also be aggressive and dominating. That, coupled with their large size and sharp teeth can overwhelm the inexperienced pet owner.
Similarly, the Tokay Gecko, while much smaller, is almost guaranteed to have an aggressive personality. This is NOT fun for the beginner lizard owner who wants to interact with their pet without feeling put on the defensive.
The Tokay Gecko will bite when it's afraid, threatened, angry, or stressed out.
An unwitting lizard owner may not know how to interpret these interactions and assume that the gecko was "bad," unwell, or that they were doing something wrong.
If your lizard is aloof, distant or aggressive, you are less likely to want to spend time with him.
Even worse? You may not be able to recognize whether a lizard's behavior is typical for that species, or if he is feeling unwell.  
Best Pet Lizards for Beginners
Now that you are familiar with the 3 most critical components to consider when looking to adopt a new lizard, let's dive into what the best pet lizards for beginners actually are! Consider any of the following great choices for your first lizard…
Best Pet Lizard #1: Bearded Dragon
Over and over again you'll see the bearded dragon (or "beardie") recommended as one of the best pet lizards for new reptile owners. They've earned this reputation by being good-natured and easy to care for.
This Australian native, loves to interact with its human. They are omnivores which are active during the day (diurnal) and like to climb on branches and bask under their UVB lamp. They like to be handled, although in short stretches until they get used to their new surroundings.
While this may seem ideal, they do have their challenges. They grow to be between 12 and 24 inches, so are not one of the smallest lizards available.
Their home should be a 55 to 60 gallon aquarium with a lid at minimum once they are full grown. Ideally, you'd have them in a 75 gallon tank or larger.
They need a simple and easy-to-clean flooring like layered newspaper. Please make sure the branches are as wide as the bearded dragon and that they have a place to hide like a box or cardboard tube.
The beardie diet is quite particular and changes as they grow older. They eat live insects, meal worms, Dubia roaches, and vegetables. When they are younger, their diet is heavier on protein, but by the time they reach adulthood they are eating a diet of 20 per cent protein and 80 per cent vegetables.
They need a calcium to phosphorus ratio of 2:1 and are at risk of metabolic bone disease (MBD) if their diet isn't on target.
When it comes to designing their habitat? Feel free to get creative and introduce approved non-toxic plants for a more naturalistic element. Additionally, rope bridges, rocks for basking, and other decor can be added to your beardie's delight! 
Temperatures and UVB MUST be taken very seriously. As such, you'll need to invest in the proper UVB bulb and heat lamp.
And should temperatures dip down below 65 degrees Fahrenheit at night? You'll also need to purchase a Ceramic Heat Emitter or "CHE".
Every day the tank needs to be scooped of feces, leftover food and uneaten insects. The food and water dishes need to be washed and when the substrate is changed all the décor items will also need to be cleaned.
Good hygiene with all lizards helps prevent bacteria growth and keeps them healthy.
Fair warning, these guys like to poop and will go one to seven times a week, which means a lot more work cleaning than you may have anticipated.
With proper care, this beginner-friendly lizard lives to be at least 10 years old and is bordering on being for intermediate reptile owners.
If someone is interested in putting in the time and energy to set up a proper habitat, follow a species appropriate feeding regime, and keep their pet's environment clean, then the bearded lizard will be a rewarding pet.
Bearded Dragon Cons
This lizard must have a nearly impeccable diet in order to maintain optimal health and avoid conditions like metabolic bone disease. On top of this, they're also prone to other health concerns that can arise due to negligent care. 
The bearded dragon also needs a lot of space. Expect to pay more upfront for setting up the larger habitat, procuring the bearded dragon, and for the higher food costs associated with larger lizards.
 

Best Pet Lizard #2: Leopard Gecko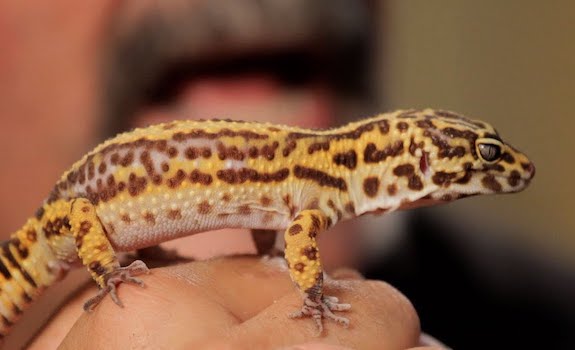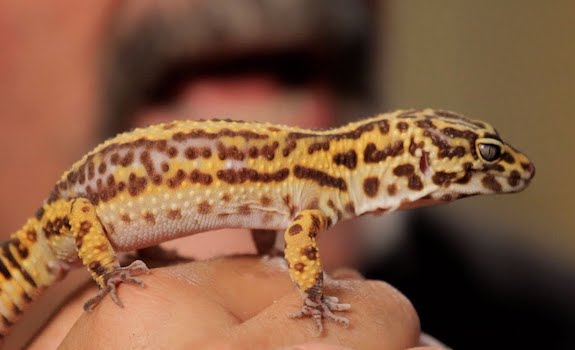 The leopard gecko is another lizard that regularly rates high in the beginner pet lizard charts. This status is well-earned. The leopard gecko is an easy-going fellow who needs a simple habitat and simple diet.
And unlike the bearded dragon? The leopard gecko does not need extra lighting!
One of the most enticing things about the leopard gecko is that you can house two of them in a 10- or 20-gallon aquarium. This is one instance where bigger is not better. With too much space the gecko may wander away from his primary heat source and get chilled.
Their hide box should be 88F to 90F at all times and the ambient temperature of the habitat should be 73F. Their substrate options are flexible and may include pea gravel, artificial turf, or newspaper.
Leopard geckos ONLY eat live insects and meal worms. They do not eat vegetables or fruit. The insects should be fed a nutrient-dense powder for 12 hours before giving them to the gecko.
This type of "gut loading" is key to optimum health. They eat about two insects for every inch of the gecko's length with feedings every second day.
Leopard Gecko Cons
A major drawback for new gecko owners is if your gecko feels he is under extreme duress he may drop his tail. What he feels is extreme duress is at his personal discretion.
This can be terrifying for a new owner, who didn't think that would happen and doesn't know how to manage the situation.
If this happens, give the gecko up to 30 minutes to calm down, unless there is a high risk of the wound being contaminated by a dirty environment or the gecko is not safe.
When he is calm enough to handle, flush the wound if it has become contaminated with substrate or other debris.
House the gecko separately if it previously shared a habitat. Keep it in a clean habitat and feed as usual, offering a meal shortly after he loses his tail to help aid in recovery. The gecko is likely to be just fine.
⭐️Fun Fact: Tail dropping is a natural mechanism that happens in the wild and sometimes captivity. As long as there aren't any signs of infection, the wound will heal on its own. The gecko may even grow a new tail within a few months as long stress is minimized and he feels like he still needs a tail. 
Best Pet Lizard #3: Gold Dust Day Gecko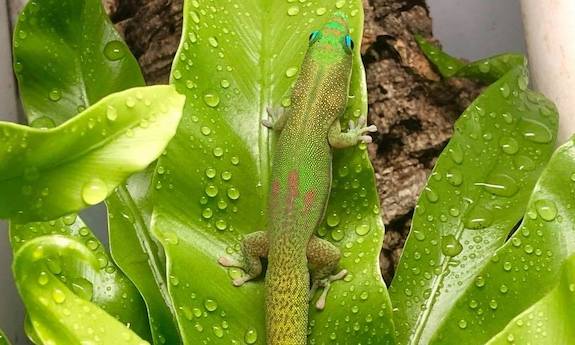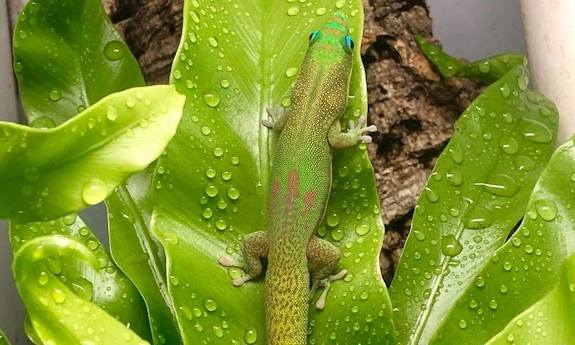 This little guy is not as commonly known as the previous two lizards. He's a little more obscure, just enough to raise curiosity, but those that know him, know him for his bright colors.
He is from Madagascar, an omnivore, active during the day, lives up to 10 years, and dislikes being handled.
This gecko will only grow to be four to six inches long. He can be housed in an aquarium with other gold dust geckos as long as there is not more than one male.
Despite their small size, these geckos still appreciate a moderately sized habitat, with a 10 to 20-gallon aquarium being ideal. Like the bearded dragon they are diurnal so need UVB lighting with a temperature of  75F to 80F with a basking spot (under a lamp) around 90F.
The gold dust gecko eats an omnivore diet with a mix of insects and gecko mix. Insects should be dusted with calcium and they will need a vitamin supplement.
The MOST important thing to remember about the gold dust gecko is that he is just for show. He is not to be handled except in an emergency and should stay in his aquarium at all times.
From here you and your visitors can watch his antics and he will feel safe and secure in his habitat.
The gold dust gecko is for the beginner that loves to observe their lizard in his habitat. He is a showpiece all on his own. He is small, hardy, and very colorful with bright green skin and a "dusting" of gold down his back.
Gold Dust Day Gecko Cons
These guys LOVE their humidity to be high and stable. This means that they need a daily misting, a hygrometer in the aquarium, and live plants to help balance and maintain the humidity.
The Gold Dust Day Gecko is unique in that he can get his water through the humidity in the air, and while he may not always need a water dish, he won't mind having one.
If live plants seem overwhelming it is possible to keep synthetic plants, BUT you'd be missing out on the natural beauty of the vibrant gold dust gecko enjoying the natural plants.
They also improve the habitat so significantly it's almost preferable that you pick a different lizard if you don't want to keep live plants with your gold dust gecko.
Wrapping Up the Best Pet Lizards for Beginners 
It is impossible to pick one ideal lizard for the first-time lizard owner…
Whereas a bearded dragon may be a deal breaker for someone who doesn't want to pressure of maintaining a pristine diet whereas a gold dust gecko may not work for someone who doesn't to manage humidity or grow live plants.
When picking amongst a list of the best pet lizards for you… it's crucial to prioritize what you want from the experience, your budget, time, and dedication.
Consider the initial habitat set-up, cost, longevity, maintenance, and feeding schedules. Whatever you decide, the options are plentiful and your first lizard is bound to be a delightful companion for many years.