You love your reptile and want the best life for him or her. As such, you may find yourself dreaming of the BEST habitat where your pet can crawl, slither, or climb to their heart's delight.
Below are several DIY reptile enclosures to help inspire you to unleash your inner contractor and build your pet their dream home!
However, something that should be stressed is that when choosing an enclosure you will first need to determine exactly what your reptile's needs are to keep him healthy and safe.
How much space does he need?
How much lighting and heat?
Will he need to climb?
Does he need more horizontal or more vertical room?
Where in your house will you most appreciate your reptile?
Is the cage going to be a focal point for visitors?
Perhaps it will function as a showpiece in your room?
Once you have figured out spacing and location you'll need to decide how you want to make the enclosure. Common options include repurposing old furniture or building from scratch. Naturally, this will depend on your time, skills, and budget.
Once you've determined these parameters, browse the enclosure ideas below to see what might suit your needs the best!

DIY Reptile Enclosure #1: DIY Snake Cage (Recycled Cabinets)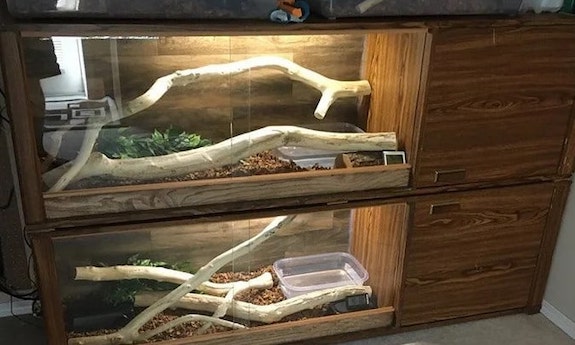 This snake cage is made out of a repurposed cabinet. This idea is wonderful for those who do not have an advanced carpentry skillset or who like to reuse and repurpose things.
It's especially fantastic for those who have an inclination to reduce their impact on the environment because it reuses something that would have otherwise been sent to the landfill.
Often old cabinets have a section that is open and allows for a piece of plexiglass to be installed, allowing for a simple viewing area with very little effort.
Some animals, like anoles, are better to be kept in a space that opens to the front, as they may easily escape top-opened enclosures.
This cage is made from a cabinet that is wider than it is tall and has an open front, preferably with glass doors.
DIY Snake Cage Plan Pros
Generally affordable

Simple & straight forward build

Aesthetically appealing

Built-in storage and looking glass
DIY Snake Cage Plan Cons
Can be hard to find

Labor intensive

Hard to transport (can be heavy)

Limited options and flexibility with design
DIY Reptile Enclosure #2: DIY Chameleon Cage
(Refurbished Cabinet)
This is another great cage using a piece of cabinetry that had already served its original purpose. The cabinet is tall and narrow, making it ideal for a chameleon that wants to climb.
The original cabinet had glass doors that opened, making it easy access to clean, maintain, and visit the chameleon. However, instead of keeping the glass, which would have trapped in moisture and heat, the glass is removed and replaced with a screen.
This allows air to move through and makes it easier to regulate the temperature inside the cage with less risk of it becoming a hot box.
The seams were sealed with silicone and the rest of the wood was protected with a water-based wood sealant. A piece of glass was cut to fit the bottom of the cabinet, which allows plants and soil to grow inside the enclosure.
DIY Chameleon Cage Plan Pros
Affordable
Quick
Customizable
Attractive
DIY Chameleon Cage Plan Cons
Heavy
Potentially hard to find
Limited in design
Wood may rot over time
DIY Reptile Enclosure #3: DIY Iguana Cage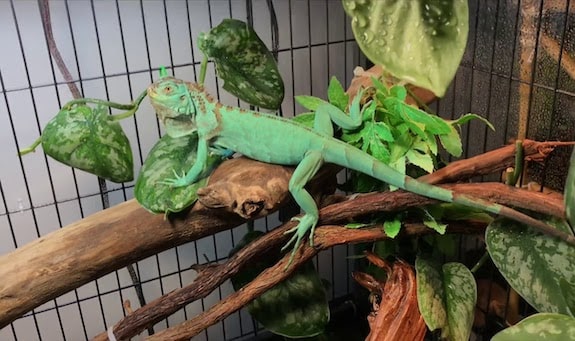 The green iguana is such a cute little guy when he comes home as a baby, but pretty soon he is going to need a LARGE enclosure. In fact, green iguanas landed the #5 spot among the largest pet lizards.
Generally, the iguana will need a cage that is at least 8-feet long, 8-feet high, and a minimum of 4-feet wide. This gives him room to grow and move freely without feeling cramped.
It's almost impossible to find a sufficient iguana cage ready-made so you will have to make your own enclosure.
This plan gives you a basic idea of how to get started, the basic measurements, and the best materials that are sturdy, yet affordable.
DIY Iguana Cage Plan Pros
Highly customizable
Adaptable
Can be on wheels (easy to move)
DIY Iguana Cage Plan Cons
Expensive
Labor intensive
Time-consuming
DIY Reptile Enclosure #4: DIY Enclosure for Brazilian Rainbow Boa (Old windows)
This plan is made from old, glass windows. As such, it is excellent for repurposing!
However, it should be noted that every project will be completely unique because everyone's supply of old windows will be different. Under the right circumstances, this plan makes an excellent snake enclosure!
The plan design uses a glass cutter to score the glass and then breaks it along the score lines. This must be done with safety gear and a cutting oil (like mineral) to make a nicer cut and preserve your tools.
Additionally, the newly cut edges need to be sanded so they aren't so sharp. The glass edges are then framed with wood and sealed with silicone and the result was essentially a DIY terrarium.
However, the cost is minimal, particularly if you already have the tools and just need to gather supplies.
It's hard to maintain the temperature and humidity in a structure like this, but it is customizable so you can work around your parameters until you have a system that works for you.
🤓Expert Tip: Once you've selected the appropriate DIY reptile enclosure plan and finished building it, you'll naturally want to furnish your pet's new home with plenty of pretty foliage! Just be sure to use only non-toxic and reptile safe plants that won't prove hazardous to your scaly friend.
DIY Brazilian Rainbow Boa Plan Pros
Almost free
Quick
Similar to store bought aquarium
Customizable
DIY Brazilian Rainbow Boa Plan Cons
Requires glass cutting
Hard to maintain temperatures
Heavy
Fragile
DIY Reptile Enclosure #5: DIY Aussie Python & Snake Enclosure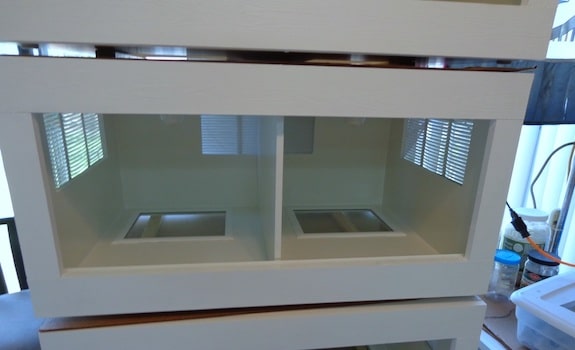 The instructions for this habitat are geared toward people who have pythons or similar snakes. It's completely customizable and uses melamine (or pine wood) and glass for the main structure.
You will need basic tools including:
drill

jigsaw
hacksaw
handsaw
screwdriver
However, the plan developer notes that you can save yourself time (and possibly money) by buying your material at a store that will pre-cut the pieces for you.
These structures allow you to customize where you will put your heating and lighting sources and can be stackable if you have multiple snakes.
DIY Aussie Python & Snake Enclosure Pros
Easy to clean
Adaptable
Stackable
DIY Aussie Python & Snake Enclosure Cons
Carpentry skills required
Labor intensive
Poor tools needed
DIY Reptile Enclosure #6: Indoor Tegu Enclosure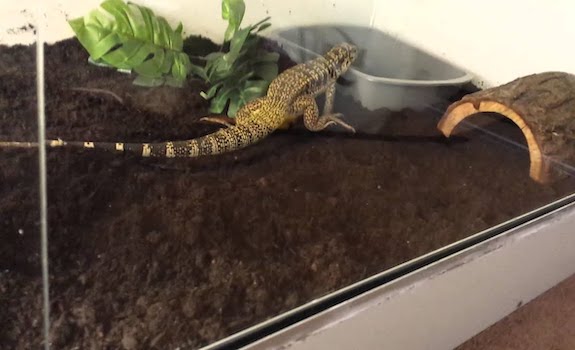 The design builder for these instructions also prefers white, double-sided melamine boards that can be cut to your preferred size.
However, unlike a generic lizard enclosure, these instructions are specific to the tegu, which allows them to give specific measurements.
This means that if you follow the instructions exactly, you'll wind up with an enclosure that is PERFECT for your Tegu!
In addition to basic power tools you will also need to be able to set tracks (this design has sliding doors) and countersink screws.
The design is attractive and tidy when done and is an excellent size (8 ft long) for Tegu's.
DIY Indoor Tegu Enclosure Plan Pros
Efficient
Spacious
Easy to clean
Affordable
Light
DIY Indoor Tegu Enclosure Plan Cons
Carpentry skills needed
Multiple Pieces
Time consuming
DIY Reptile Enclosure #7

: Basic Reptile Enclosure
This basic reptile enclosure is a wooden box that can be customized exactly how YOU want!
The plans include designs for both a horizontal and a vertical cage. Both are made using plywood and either glass or plexiglass installed on tracks.
The images are clear for all designs and measurements are given in each example.
The horizontal gives the measurements for a corn snake or ball python with a cage that measures 3-feet by 1.5-feet by 1.5-feet.
To learn more about giving your ball python a comfy home, check out our ball python enclosures setup guide.
The vertical measurements are for a structure that would house a crested gecko. This example measures 1.5-feet by 3-feet by 1.5-feet.
A bonus enclosure plan is for a multiple reptile unit with three cages inside the unit. It is a vertical structure made in the same style as the previous examples. The entire unit is 6-feet by 3-feet by 2-feet, which means each reptile cage would be 2-feet by 3-feet by 2-feet.
The best part of these basic designs is that if you get the wood pre-cut, you'll have very little work left to do and will not need much more than a drill in way of tools.
Note: Looking for a place for your frog? Check our guide to the best frog tank and habitat!
DIY Basic Reptile Enclosure Plan Pros
Simple
Effective
Flexible
Quick build
DIY Basic Reptile Enclosure Plan Cons
Limited design flexibility
Expensive (compared to others)
Not necessarily attractive
Measurements are variable
DIY Reptile Enclosure #8: Purchased Plans
(eBay – multiple sizes)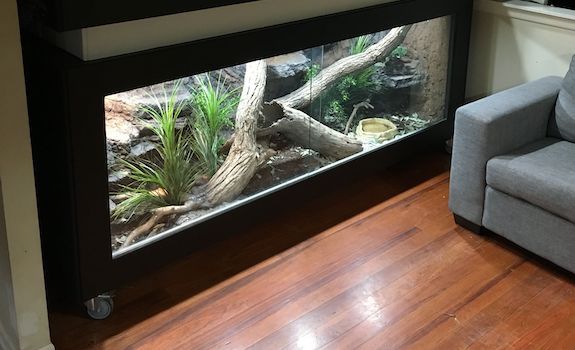 These plans are for sale and are prepared for you. As such, they are ideal for both people who don't excel at making customizable cuts and those who want to be told EXACTLY what to do.
The purchase includes 10 plans for six different types of styles.
These plans can be used to build:
Snake enclosure

Lizard enclosure
Chameleon enclosure
Gecko enclosure
Iguana enclosure
Incubator
The designs are wood framed with either all screen siding or plywood sides. They can be adapted to use plexiglass. However, this is ultimately where the modifications end as they can NOT be adapted to allow heating or lighting to be on the inside of the habitat.
This is because they are designed for lighting to sit on the outside, which is typical of most enclosures.
DIY Purchased Reptile Enclosure Plan Pros
Easy
Comes with CD
Multiple sizes
Reptile specific
DIY Purchased Reptile Enclosure Plan Cons
Costs $10 for plan
Can't see quality prior to build
Rigid sizing
Doesn't include costs for materials
Wrapping Up DIY Reptile Enclosure
There are almost a limitless number of plans out there when it comes to making DIY reptile structures. People can build habitats from a variety of scavenged or repurposed materials or by simply starting a new build with fresh wood or melamine.
Builds can be as simple as removing glass from a cabinet and replacing it with screen and then sealing the structure, or as complex as making a custom piece that beautifully fits into a particular part of the house.
Remember that your reptile friends are cold-blooded. So they will require an external heat source to adequately regulate their body temperature.
If you don't already have one, consider buying a reptile heating pad so that the enclosure is always at an ideal temperature.
The reality of reptile husbandry is that many reptiles will outgrow cages that are commercially made so planning ahead and knowing exactly what you want will save you some trouble in the long run.