Crickets are a great staple food for reptiles, but where is the best place to buy them?
These kinds of feeder crickets can't simply be caught in the wild so you will have to purchase them from a local or online vendor.
My personal buying preference is ordering them here since I have found this to be the cheapest and most familiar solution for feeding my reptiles.
The advantage of purchasing crickets online is that you will generally save money.
In my experience, buying them from local vendors can range in price from .10 – .13. While ordering online you can typically expect to pay anywhere from .02 – .06 depending on size and quantity.
Those who don't buy crickets will usually purchase good alternative live insects or simply breed their own.
Top 3 Places Online to Buy Crickets for Your Reptiles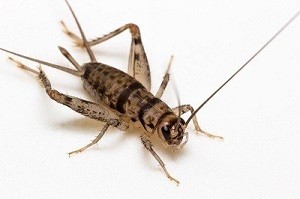 There are many places to buy crickets both online and locally so I'm just going to list vendors who I have personally had interactions with.
Amazon
Many live insect farms use the Amazon platform to list and sell their live insects.
Do a quick search and you'll find popular brands such as Bassetts Crick Ranch, Josh's Frogs, VM Feeders and more.
You can get practically any and all feeder insects for reptiles on Amazon.com as it is quickly becoming a mega marketplace.
This is one of the best places to buy crickets in my opinion since you have many options to choose from in addition to many people already being familiar with the merchant.
Often times cricket sellers will compete with one another to have the lowest price leaving you to benefit from these price wars.
Check Amazon first if you're new to buying crickets as you will have many sizes and quantity options to choose from.
Another reason to consider Amazon is for their stellar customer support.
When vendors choose to sell on Amazon, they have to adhere to strict performance metrics such as a low number of complaints if they wish to continue using the platform.
Other reputable online vendors for purchasing crickets online include…
Fluker Farms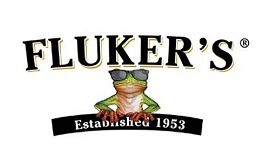 Established in 1953, this Louisiana based family business has grown to be one of the biggest suppliers of live insects in the country.
Fluker Farms offers more than simply crickets so you'll find everything from live insects to plants, vines, and bedding here.
On their website, you can purchase crickets in quantities ranging from just 100 all the way to 5,000+.
Backwater Reptiles

Based out of Northern California, Backwater Reptiles offers 9 different sizes of crickets in quantities of either 500 or 1,000 in addition to free overnight shipping. BW Reptiles also sells a wide variety of reptiles, amphibians, and more.
How Many Crickets Should You Buy?
This answer really depends on the age/size of your reptile in addition to the size of the crickets themselves.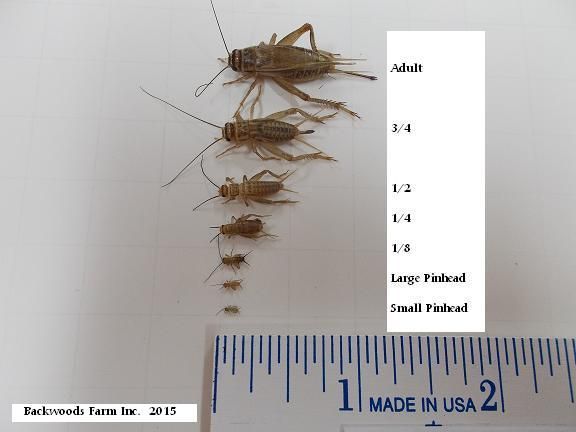 Some juvenile reptiles can easily consume approximately 50+ crickets per day but this number will likely change as they grows into healthy adults.
In contrast, an adult bearded dragon will only consume 30-50 crickets per week.
Tips for Buying Live Crickets
The following three tips will help your cricket buying experience go more smoothly! Consider the following…
Have a cricket keeper ready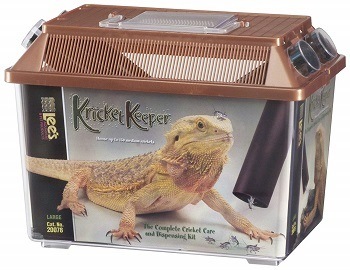 The first step is knowing the best place to order them from.
After this, you'll want to get a cricket keeper and then prepare their habitat.
The video below demonstrates how exactly you should setup your cricket feeder.
Consider the Vendors Location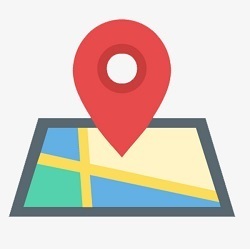 Crickets may die for a handful of reasons.
Some of which include insufficient ventilation, poor sanitary conditions, and inadequate temperatures, all of which can easily and severely occur during extended transit times, causing dead crickets.
So, the closer the vendor is to your area the better.
Check for a "Live Guarantee"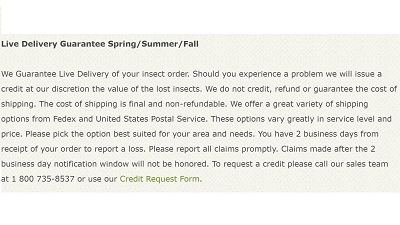 Live guarantees from a vendor are simply their promise that the crickets you buy from them will live a certain number of hours or days after receiving them.
Typical guarantees with live crickets are 24 hours after receiving them but some can be as high as 72 hours. Live guarantees will vary based on the season and temperature outside.
Alternatives to Buying Crickets Online
Like I mentioned before, there are many places to purchase crickets. The two alternatives are choosing to buy them locally or raising your own.
Buy them locally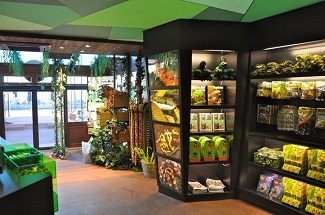 There are advantages to buying them locally such as how quickly you can get them and smaller quantities you can take advantage of.
Search in your area for a reptile shop, Petco, or Petsmart.
Breed and raise your own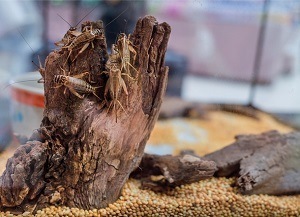 Although this may not sound attractive to you at first, you may want to eventually consider breeding your own crickets.
Learning how to breed and raise crickets can significantly reduce your beardie's grocery bill despite the time commitment.
Breeding crickets especially comes in handy if you own find yourself wanting to own more than one reptile.
Summing Up Where to Buy Live Crickets
With so many great cricket vendors to choose from, your options are practically endless.
At the end of the day this isn't really a big decision so don't sweat trying to research them all.
Just pick one so you can get back to spending time with your beardie.
Have You Read These Bearded Dragon Articles Yet?