Very little in life can compare to the feeling of excitement and joy of finding the ideal gift for someone special. And if you've landed on this post then one thing is for sure… You're obviously on the hunt for BEST gifts for reptile lovers!
But perhaps you're feeling a little stumped (And understandably so…) when it comes to gifting that special reptile lover in your life something you KNOW they'll fall in love with? I mean, it's only natural that you may find yourself wondering…
"What the heck are my options when it comes to gifts for reptile lovers?!"
However, fear not! We've compiled a master list below of the absolute BEST gifts for reptile lovers that will have them crowning you as the king or queen of gift giving. No matter if the recipient is obsessed with snakes, lizards, frogs, or any other type of reptile… this list has got something for EVERY reptile lover.
Better yet? These gifts come at a variety of price points meaning there's something to suit every budget. So, without further ado, let the shopping begin because your search for the best gift ends here.
In a hurry or just plain curious?
Boa Constrictor Dropping In Coffee or Tea 11oz Mug
Looking for that perfect practical gift that a certain snake lover/owner in your life will get plenty of use out of? If so, look no further than this stylish black and white Boa Constrictor Mug!
Suitable for that piping hot cup of morning coffee, afternoon tea, post dinner espresso, or any other warm beverage, this mug makes a great budget friendly gift option that any snake enthusiast would be more than happy to add to their collection of dishware.
Check Price and Reviews on Amazon
21″ Pogo The Bearded Dragon Lizard Stuffed Animal Plush Toy
Soft, cuddly, and downright adorable, this 21 inch long plush bearded dragon is the PERFECT bearded dragon lover present! featuring an adorable replica with impeccable attention to detail, this plush will undoubtedly make any bearded dragon lover smile.
The equivalent of a teddy bear but for reptile lovers, this stuffed lizard will add a touch of cuteness to any bed, office, or playroom.
Check Price and Reviews on Amazon
Snake: The Essential Visual Guide BY Chris Mattison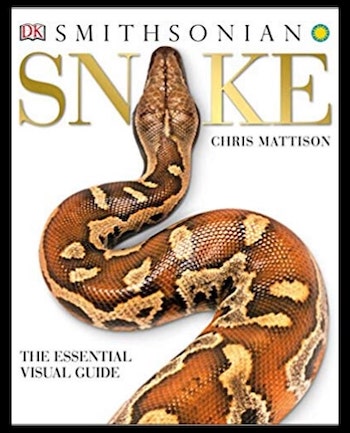 Covering over 3,000 species of snakes, this comprehensive, best-selling guide makes for educational and enjoyable reading for snake enthusiasts of all ages!
Through partnering with the Smithsonian Institution, author, herpetologist expert, and wildlife photographer Chris Mattison has included more than 450 illustrations and 60 striking full-color photographs of a wide array of species.
A must-have for any snake lover, this book will provide countless hours of enjoyment for readers looking to learn more about snake facts and trivia, behavioral characteristics, hunting behaviors, and so much more.
Dawhud Direct Turtles on The Beach Fleece Throw Blanket
Oversized at 50" by 60", this super soft and warm throw features a gorgeous sea turtle print that will delight reptile and beach lovers alike!
Perfect for use in the home, chilly sporting events, or even during picnics, this machine washable throw is a wonderfully thoughtful gift that will leave anyone feeling all warm and fuzzy inside without costing you an arm and a leg.
Find even more turtle themed gift ideas here!
Check Price and Reviews on Amazon
Relaxing Reptiles & Amphibians: Adult Coloring Book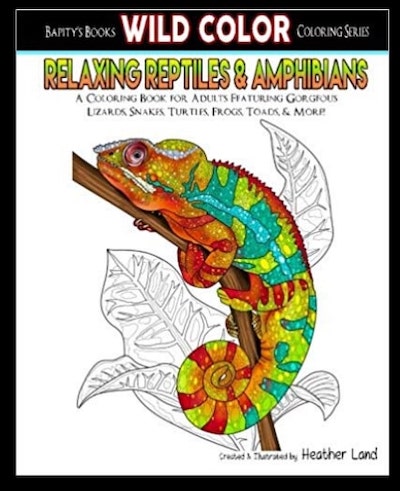 Need a gift for a reptile lover who could benefit from the relaxing benefits of an adult coloring book? If so, look no further than this Reptiles & Amphibians Coloring Book!
Featuring beautiful images of frogs, turtles, lizards, and more, this book will unlock inner creativity and help anyone unwind at the end of a long and stressful day.
JEKCA Leopard Gecko 3D Puzzle
On the hunt for a fun activity little ones can do on their own or with the family? If so, this JEKCA Leopard Gecko 3D Puzzle is just the thing you need to get minds working and creativity flowing!
This DIY brick design kit provides a sturdy final design that, unlike competitors, won't fall apart or require any glue.
And with an assembly process that is easy and straightforward, you can rest assured that children will find this activity enjoyable and never tedious or frustrating.
Check Price and Reviews on Amazon
Snake Print Apple Watch Band
Perfect for that chic fashionista in your life with a penchant for slithery serpents and stylish accessories, this Snake Print Apple Watch Band will transform any Apple Watch from drab to fab!
Crafted from genuine leather, this strap provides a no-slip fit with a comfortable and easy to remove snap closure. Great for everyday wear and even more formal occasions, this strap will delight any recipient.
Check Price and Reviews on Amazon
Artificial Model Reptile Lizard Animal Figures
Sometimes the best gifts for reptile lovers (especially those under the age of 10) come in the form of some good old fashioned toys! And if you're searching for the perfect gift for a mini reptile lover… look no further than this set of 12 model lizards featuring a wide array of colors and patterns!
Ideal for children age 3 years and older, this set will provide countless hours of playtime in any playroom, backyard, bathtub!
And with a surprising amount of attention to detail, you'll see why this set is so popular amongst children and budget conscious adults alike.
Check Price and Reviews on Amazon
My Pet Can Eat Your Pet Shirt
Perfect for any snake owner, this tongue-in-cheek super soft cotton t-shirt makes a great gift for those who can appreciate a great graphic t-shirt! Available in a wide variety of colors, this t-shirt will undoubtedly become a staple in any snake lover's wardrobe.
Check Price and Reviews on Amazon
Gecko Personalized Oval Keychain (Engraving Included)
If you'd like to gift something a little more personalized for added sentimental value, then you'll love this Oval Gecko Keychain that includes free engraving! Perfect for adding to any keyring, you can customize this keychain with the recipient's name of that of their beloved pet gecko.
Available in 4 chic colors, this keychain is a surprisingly good value considering the attention to detail, beautiful stitching, free engraving, AND complimentary black giftbox.
Check Price and Reviews on Amazon