So, you're obsessed with your bearded dragon…who isn't?!
Bearded dragons are seriously underrated pets that provide tons of love and amusement.
And as any doting and caring owner would, you naturally want to scoop up the BEST bearded dragon accessories to ensure your little guy or girl totally thrives.
In this post, you'll find only the best recommendations for everything from leashes for your bearded dragon, to harnesses, furniture for their setup, and even some cute merch for you!
So, instead of scouring the web looking for accessories for your bearded dragon, just sit back, kick your feet up, and browse our expertly curated list below.
Curious or in a hurry?
✅ Buyer's Tip: These specific accessories are MOST popular among Bearded Dragon owners!

The BEST Bearded Dragon Clothes
We understand that you're a proud bearded dragon owner because, well, so are we!
As such, it's only natural that you'd want to show off what a proud bearded dragon mom or dad you are.
Or maybe you're simply looking to deck your dragon out in hilarious and cute outfits for awesome photo ops?
Regardless of whether you're looking for clothes for you or your pet, be sure to check out our recommendations below…
Bearded Dragon Got Crickets T-Shirt
This T shirt is absolutely adorable and perfect especially for young bearded dragon owners or as a pajama top!
What I really like about this shirt is the bright array of colors it comes in, whereas the other shirts come in more muted colors.
Bearded Dragon Devil Costume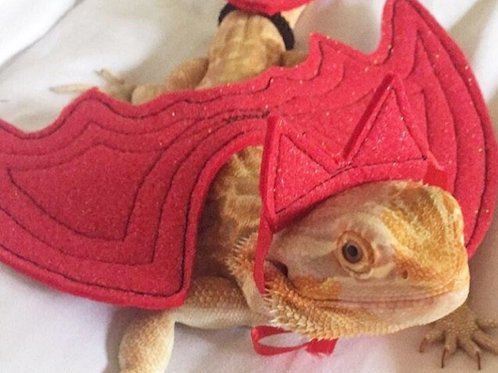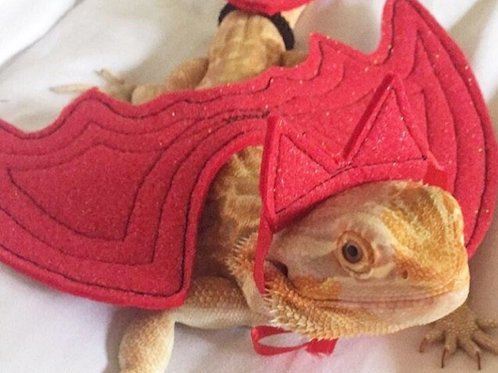 Probably just about the cutest thing I've seen all week, this little bright red devil costume is absolutely hilarious!
Designed with the concept of having a "devil on your shoulder" this costume will allow you to essentially transform your dragon into your very own devil on your shoulder.
On a sidenote: This Etsy seller has A TON of super cute bearded dragon costumes so be sure to browse around her shop.
From sharks, to sombreros, to angels… she really has a wide assortment.
Funny Bearded Dragon Owner Shirt
Want to remind people of how important and great beardies are? Perfect. Rock this shirt.
In a range of colors and with an eye-catching graphic, this shirt is stylish, eye-catching, and funny all in one. What more could you want?
The BEST Bearded Dragon Furniture
How would you feel if you spent the majority of your life living in one large room with little to no furniture to sit, lay, or relax on? I'm willing to guess probably not great!
Likewise, your bearded dragon will feel more at home and happy living in a tank with plenty of "furniture" for them to enjoy. Check out our top recommendations below…
Bearded Dragon Couch
Why not gift your bearded dragon a soft fabric couch to lounge around on?
This couch here comes in a variety of fabrics and is perfect for larger bearded dragon tanks with extra room.
You could also place this outside of the tank for your dragon to chill on.
Lastly, if this couch is too expensive, consider this armchair made by the same seller for less than half the price.
Bearded Dragon Tanke Accessories Kit
This all-in-one kit offers a bundle of great items to spruce up your bearded dragon's cage.
From a hammock to a vine with leaves to a bendable branch and even the tools needed to set everything up, this kit has you covered!
It's important to give your bearded dragon a hammock because it lets them lounge comfortably and gives them something to climb on.
Also, bearded dragons just love hammocks in general! If your bearded dragon doesn't have a hammock for their tank yet, I highly recommend checking out this kit.
Bearded Dragon Fleece Hammock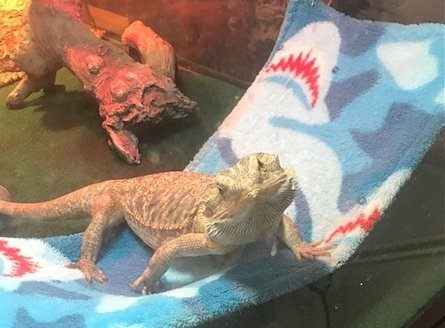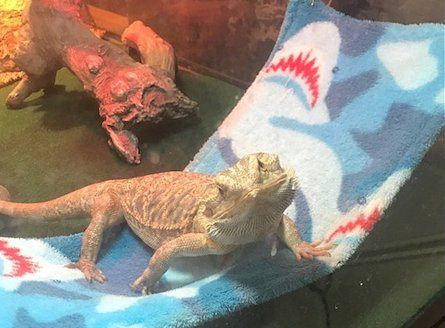 If you want to give your dragon something super soft and plush that they won't get their nails caught in, this fleece hammock is perfect!
Coming in a wide variety of colors and patterns, you'll be able to have this Etsy seller make something customized for you!
Penn-Plex Reptology Lizard Lounger X-Large
If you're just on the hunt for just a hammock alone, then definitely check out this online customer favorite! This hammock is a great size and even suitable for large bearded dragons.
Coming in at 29 inches long, this is the type of hammock that will span the length of many bearded dragon enclosures. Your bearded dragon will love lounging on this and having an elevated view!
However, if this lounger is simply too long for your lizard or their enclosure, consider the smaller options from the same company.
Zilla Shale Rock Den, Medium
In case you didn't know, aside from a good hammock, all bearded dragons should also have access to a hide like this one here.
Having a hide allows your bearded dragon somewhere to "escape" to, where they can feel safe and secure.
Hide tend to be either made of wood or rock and are a must purchase.
This one by Zilla is great because it not only looks attractive, but can also double as basking rock!
The BEST Bearded Dragon Leashes and Harnesses
Bearded dragons absolutely love getting to go out in the sun (duh) and as such, it's a great idea for their owners to invest in a nice leash and harness.
Trust us, you'll totally melt "walking" your dragon around the yard as they soak up some natural Vitamin D.
Check out our top leash and harness recommendations below…
Personalized and Adjustable Bearded Dragon Leash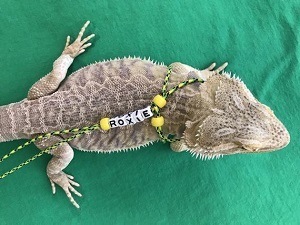 If the wings above are a little too ostentatious for your liking, fear not. You can always go with a more simple leash and harness like this one!
But, because it's always fun to have some flair, this leash actually allows for buyers to customize it with their dragon's name! Too cute.
WATFOON Adjustable Lizard Leash with Ultra Comfort Genuine Leather Harness and Cool Wings
Don't even pretend that this isn't the absolute cutest leash and harness for a bearded dragon! From the high-quality leash to the comfortable harness and adorable dragon wings, this is a great option for those looking to take their bearded dragons outdoors.
If you have a badass bearded dragon or know someone who does, I highly recommend checking this set out.
The BEST Bearded Dragon Travel Carriers
Whether it's a quick jaunt to the vet or time to move, you'll need a bearded dragon travel carrier at some point in your beardie's life.
Check out our suggestions below for your best options…
Favorite Top Load Portable Pet Small Animal Carrier
If you'd rather transport your bearded dragon is something with a hard shell, then check out this plastic carrier.
Measuring a little over 18 inches, this carrier is a great option for even large bearded dragons.
What really stands out about this carrier, however, is the transparent lid that allows you to keep a close eye on your pet.
AmazonBasics Soft-Sided Pet Travel Carrier
Want to spoil your beardie with a super comfortable carrier, without breaking the bank? Look no further!
This carrier is lined with machine-washable fleece and can be spot cleaned.
Also, with dual zippers, you will be able to place your beardie inside from the top or the sides.